Reception
Welcome to Reception!
It is great to be back at school.
We have also been joined by four lovely children Mia, Millie, Molly and Owen.
We made face biscuits in our first week.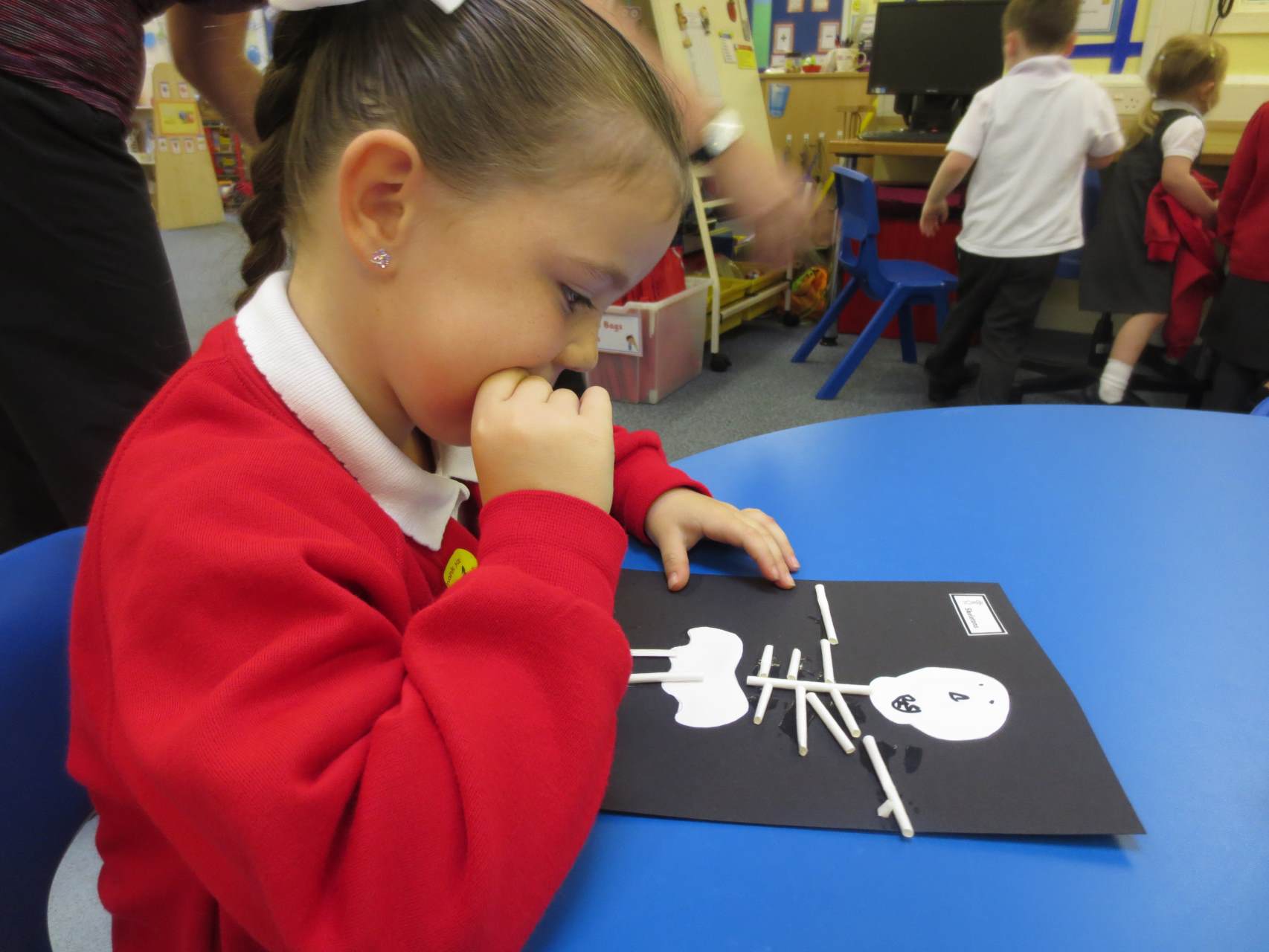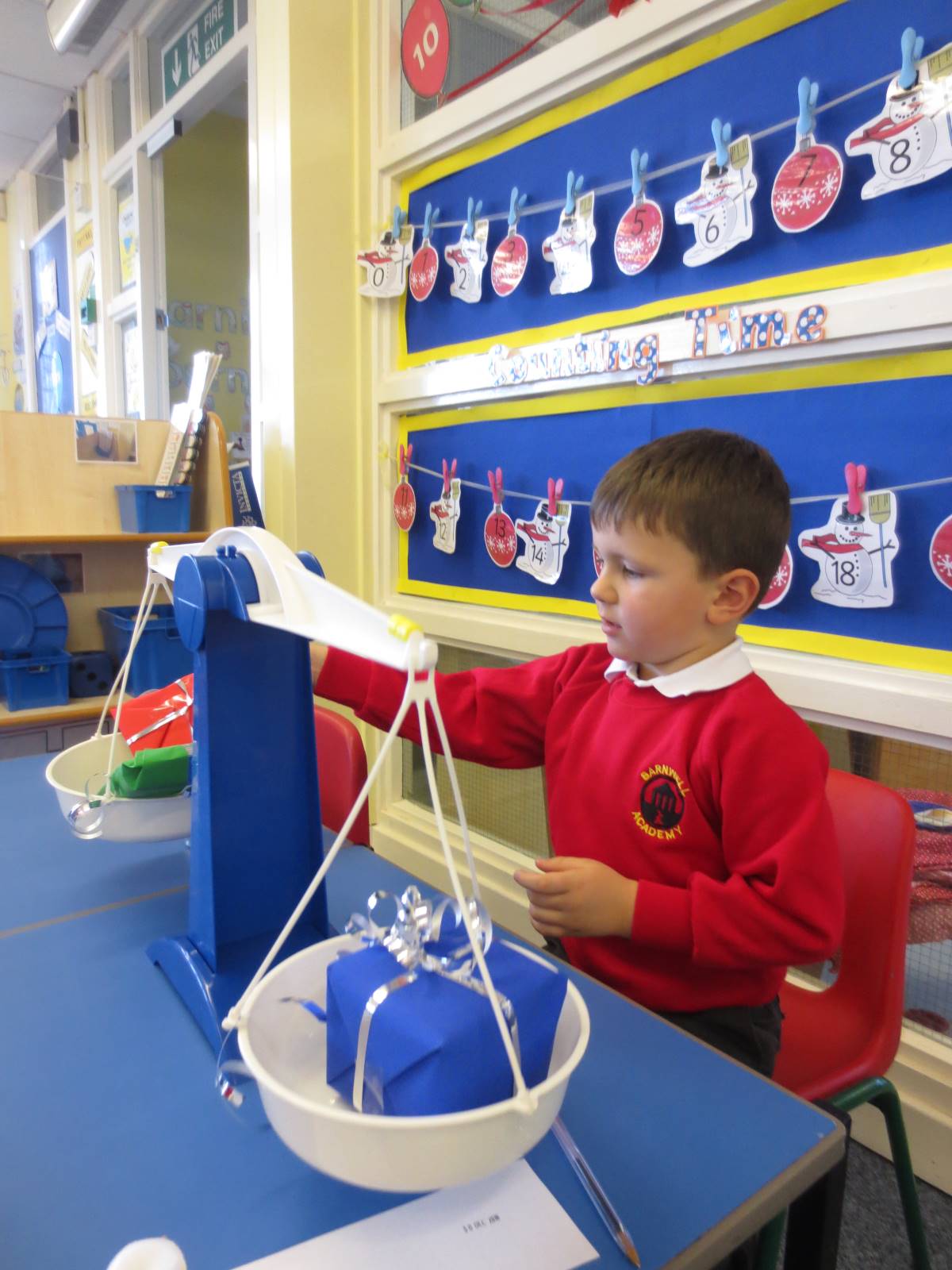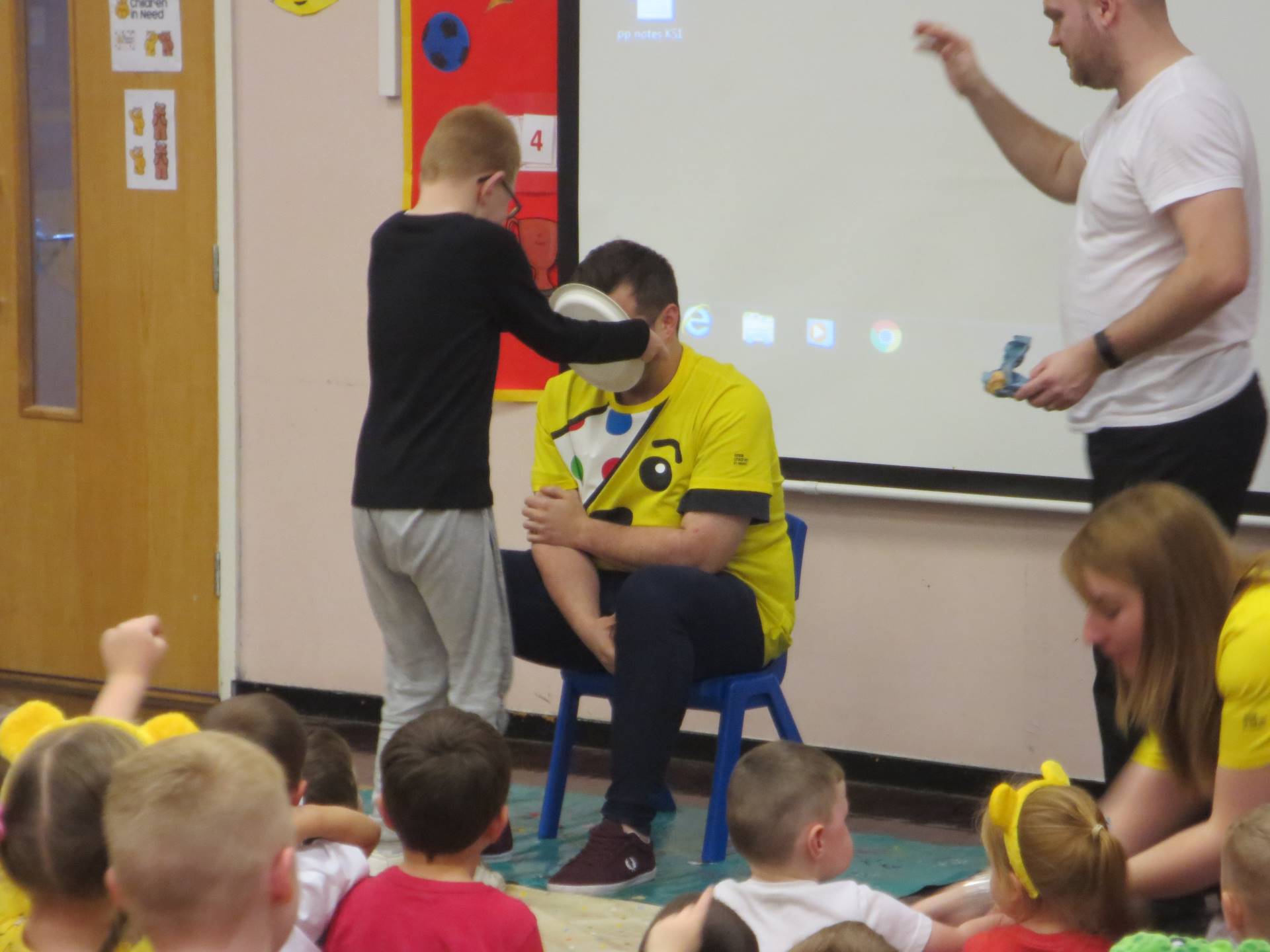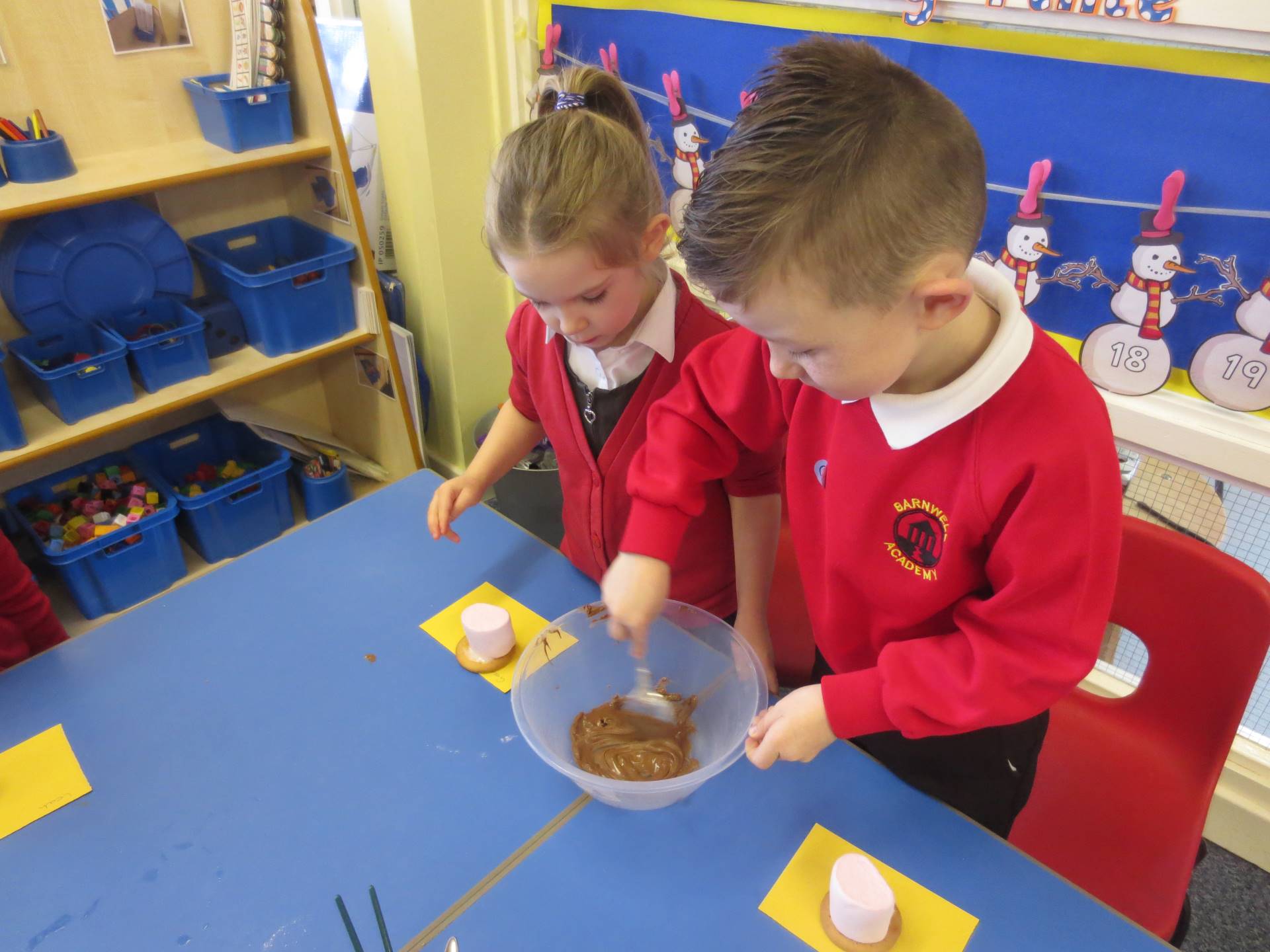 All About Me
We have found out about ourselves. We have talked about what makes us happy and sad and started using our Feelings Board.
We made skeletons, learnt the names of some of the bones and how they help us.
We also had a visit from the School Nurses. They showed us how we can keep ourselves healthy. It was great fun measuring our height and weight, listening to our hearts with a stethoscope and bandaging our broken bones.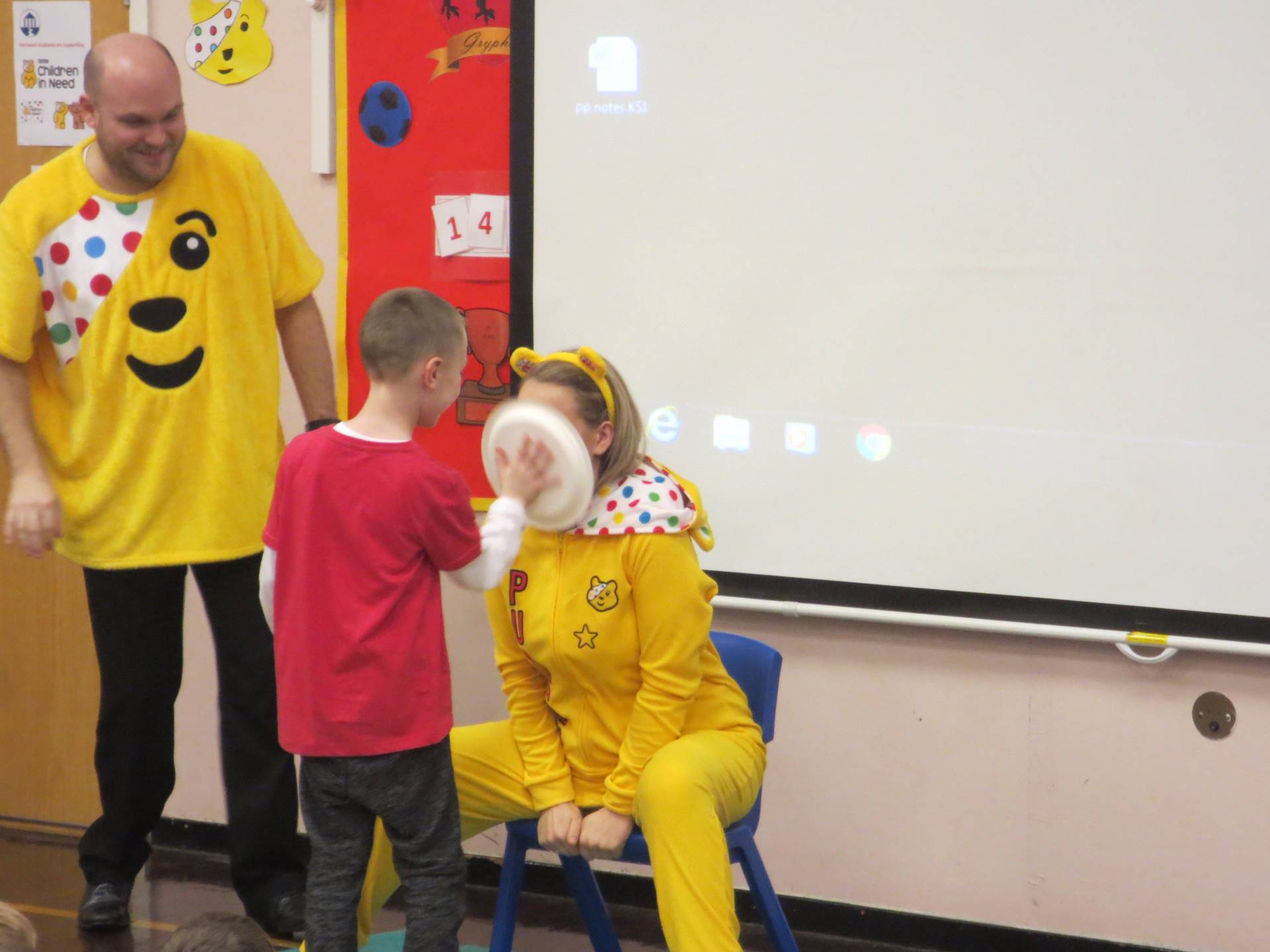 MacMillan Coffee Morning
What a good morning.
Reception sang two songs for their families -Incy Wincy Spider and Twinkle Twinkle Little Star.
We held a Raffle and Name the Bear Competition.
We ate lots of scrumptious cakes and biscuits and drank juice. But most importantly we raised over £230 for the Macmillan Nurses and the wonderful work they do.
Thank you to everyone who came.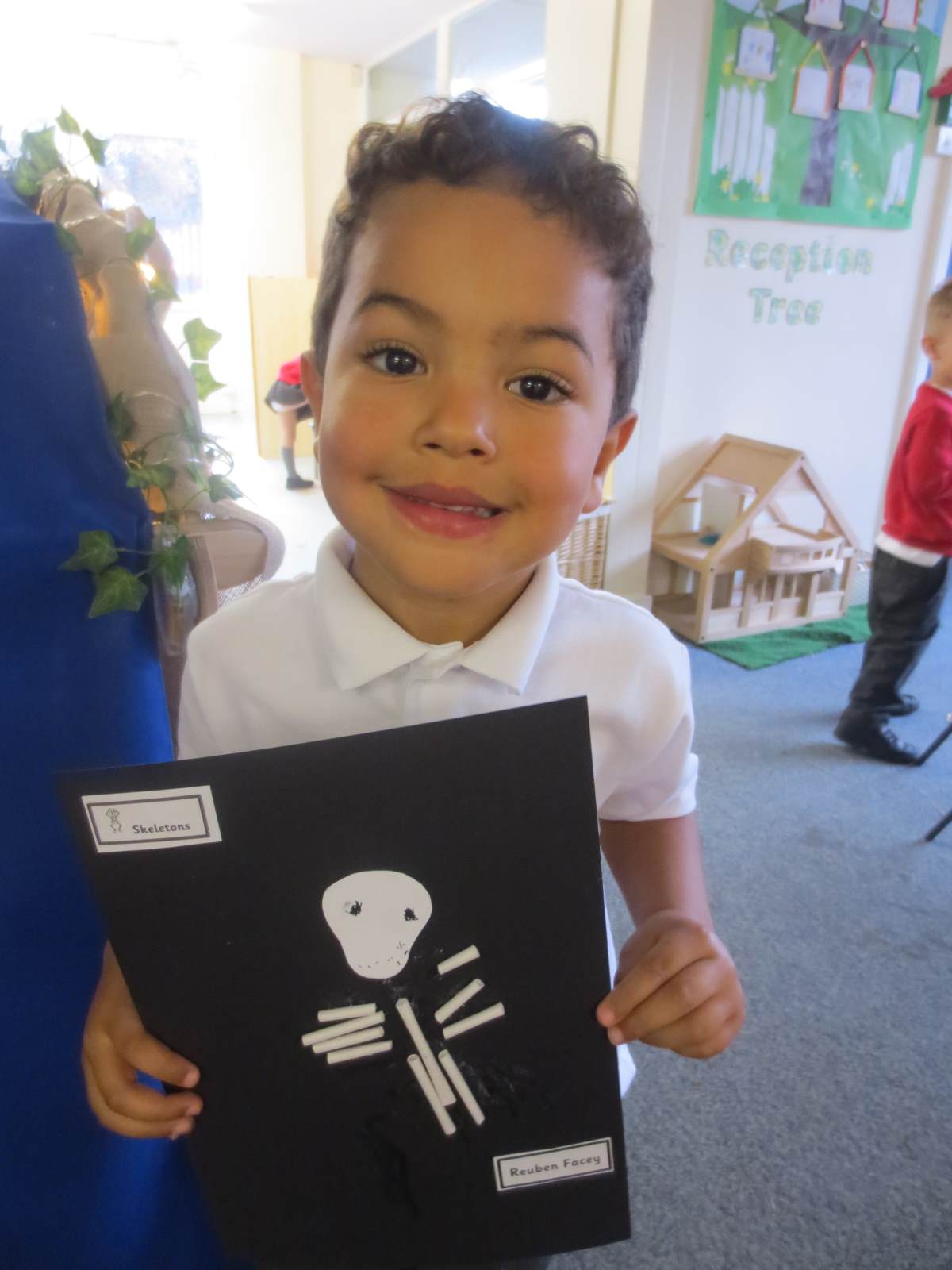 Pets
We have looked at pets, the names of their offspring, how to take care of them and where they like to sleep.
We had great fun when Mrs Snowball brought Dylan the Dog into our class.
We found out what toys he plays with, where he likes to go for a walk, what he likes to eat, that he visits the vet when he is poorly and how to keep his fur shiny and clean.
Reading Workshop
It was really good to see so many parents and grandparents at the Reading Workshop.
We hope you found the information shared useful. Please ask a member of staff if you have any questions.
We look forward to seeing you at the next workshop.
Autumn
We have enjoyed investigating all of the changes seen in Autumn.
We explored the outdoors and with the help of Jill from the RSPB discovered lots using all our senses. We liked the smell of the lavender and rosemary best.
We used all of the objects we collected to make pictures and patterns in the class.
We read lots of stories about Percy the Park Keeper and his work in Autumn. We made a Chatter Box Bin to help us retell the story in class with our friends.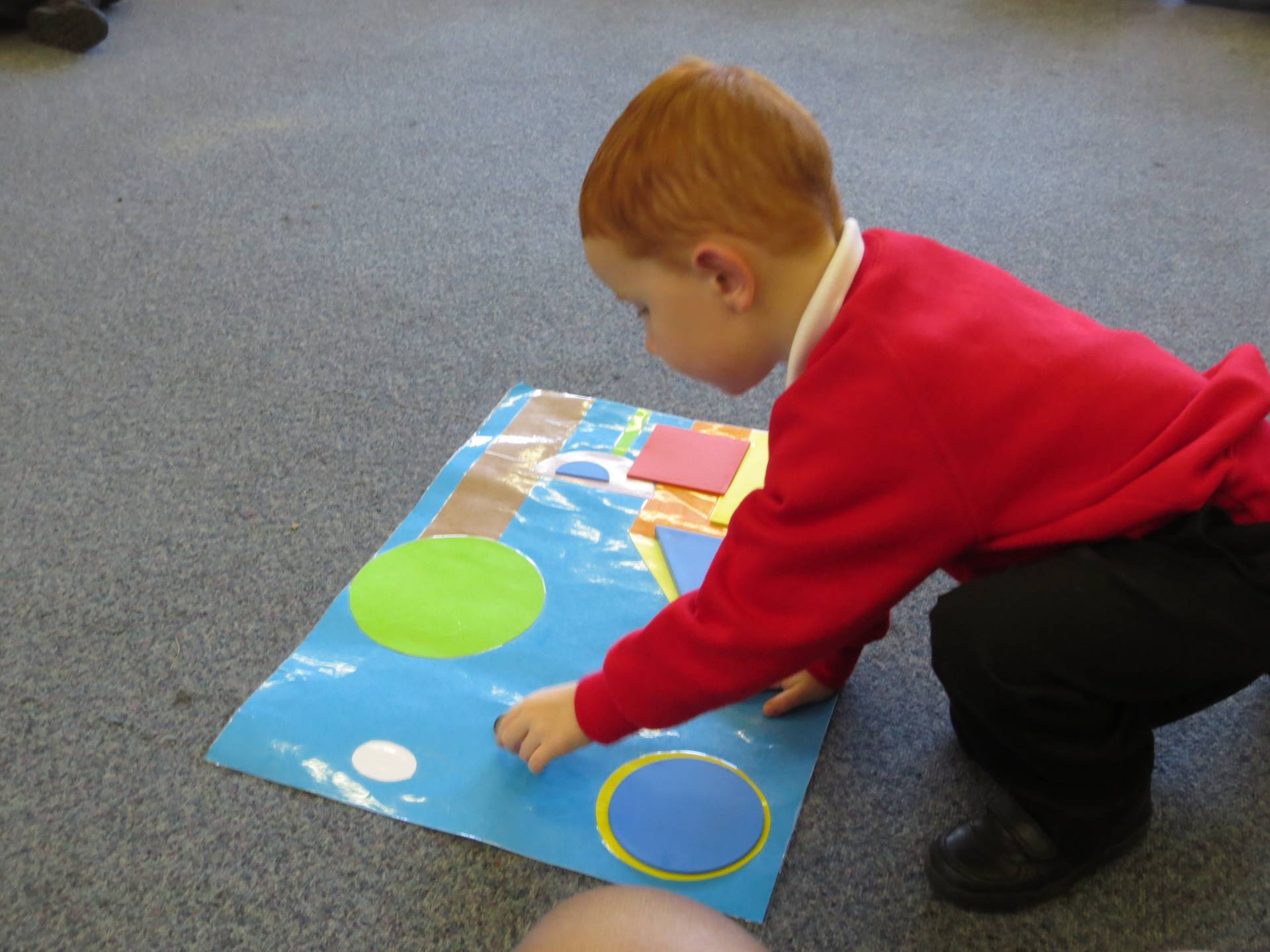 Rhyme Challenge
Rhyme Challenge has gone really well. We have practiced and said all of our 10 rhymes.
We performed to the school in Friday's House Assembly. Mrs Emmerson presented us with a certificate.
We have also celebrated Halloween, making pumpkin pancakes. Yummy.
We celebrated Bonfire Night by making cinder toffee. Scrummy.
We also programmed the Rocket Bee Bots to move between stars, planets and the sun. We can move the Bee Bot forwards, backwards and turn to the side.
Pudsey Bear Day
We had great fun on Pudsey Bear Day. We spent the morning with Year 6 in the school hall. They had arranged a Penny Fair to raise money for the charity. There were lots of activities as well as cakes to buy.
In the afternoon Pudsey Bear visited our school. He told us about his busy day and taught us his dance. We all had a try, we were very good, Pudsey gave us a thumbs up.
After it was Pie the Teacher time. Mrs Emmerson, Mr Longstaff, Mr Proctor and Mr Sadler were all "pied" along with Mrs Dimmock and Miss Robinson from our class.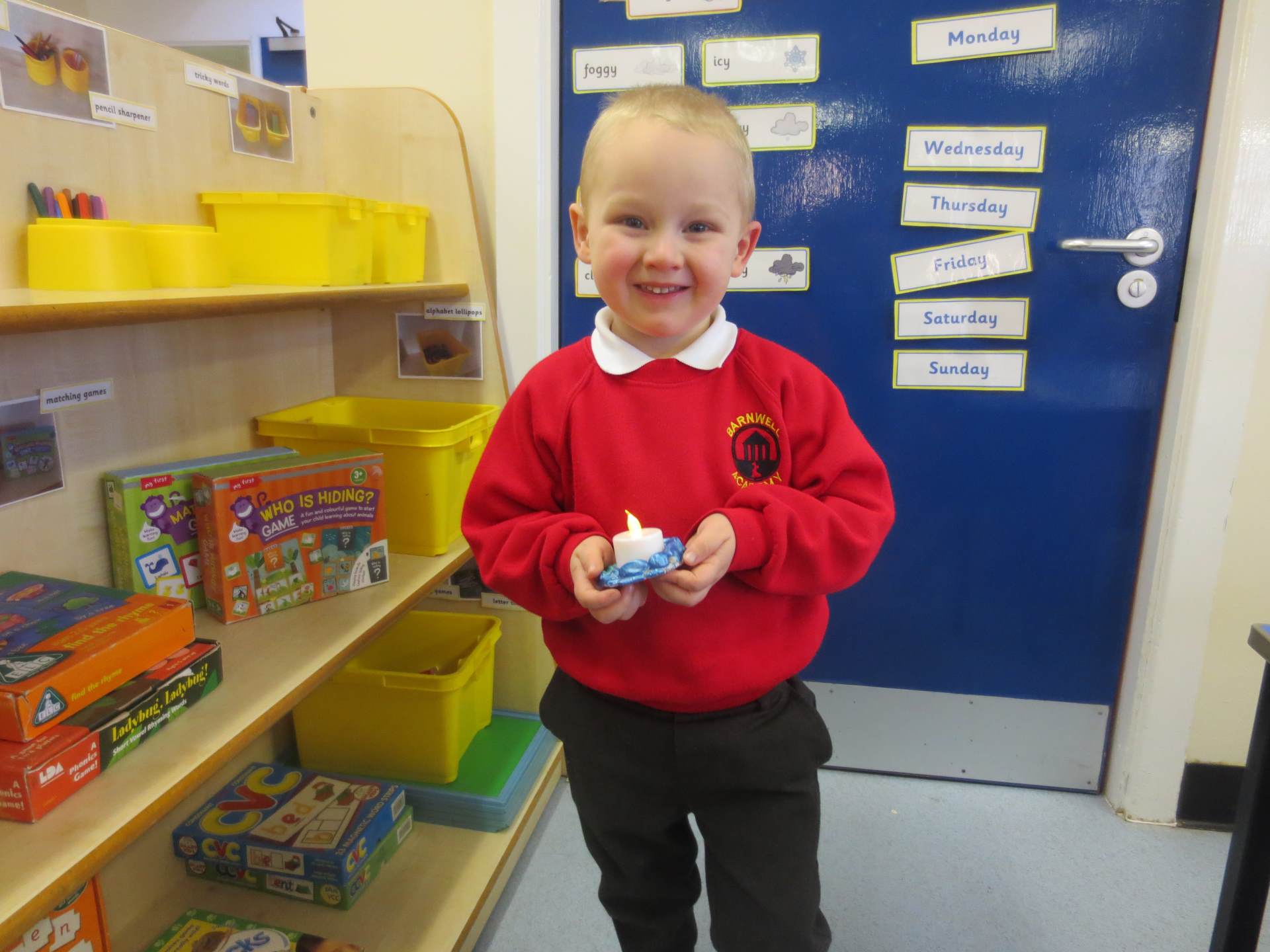 Toys
We have explored toys and their characteristics. We told our friends what our favourite toy is.
We have compared toys from the past and from today and were able to say what the similarities and differences are which we would like to play with.
We have made our own Teddy Bear Plates by ourselves. We also wrote a letter to Santa Claus to let him know which toys we like.
Christmas Production
We performed Shine Star Shine for all of our families and friends. We were really proud as we sang our songs beautifully, said our words clearly, acted our parts and danced superbly.
Christmas
Christmas has been lots of fun. We had a great party. We played lots of games, Pass the Parcel, Stations, Musical Statues and The Farmers in his Den. This was followed by a delicious party tea, sandwiches, crisps, cakes, biscuits, marshmallow dips and juice. Then as we sang songs round the Christmas tree Santa Claus arrived ! He brought a present for everyone. We had a Cinema Morning with Nursery, Class 1 and Class 2. We watched the Father Christmas movie. Lots of giggles. We are going to the Pantomime on Friday. Ending 2017 on a high note.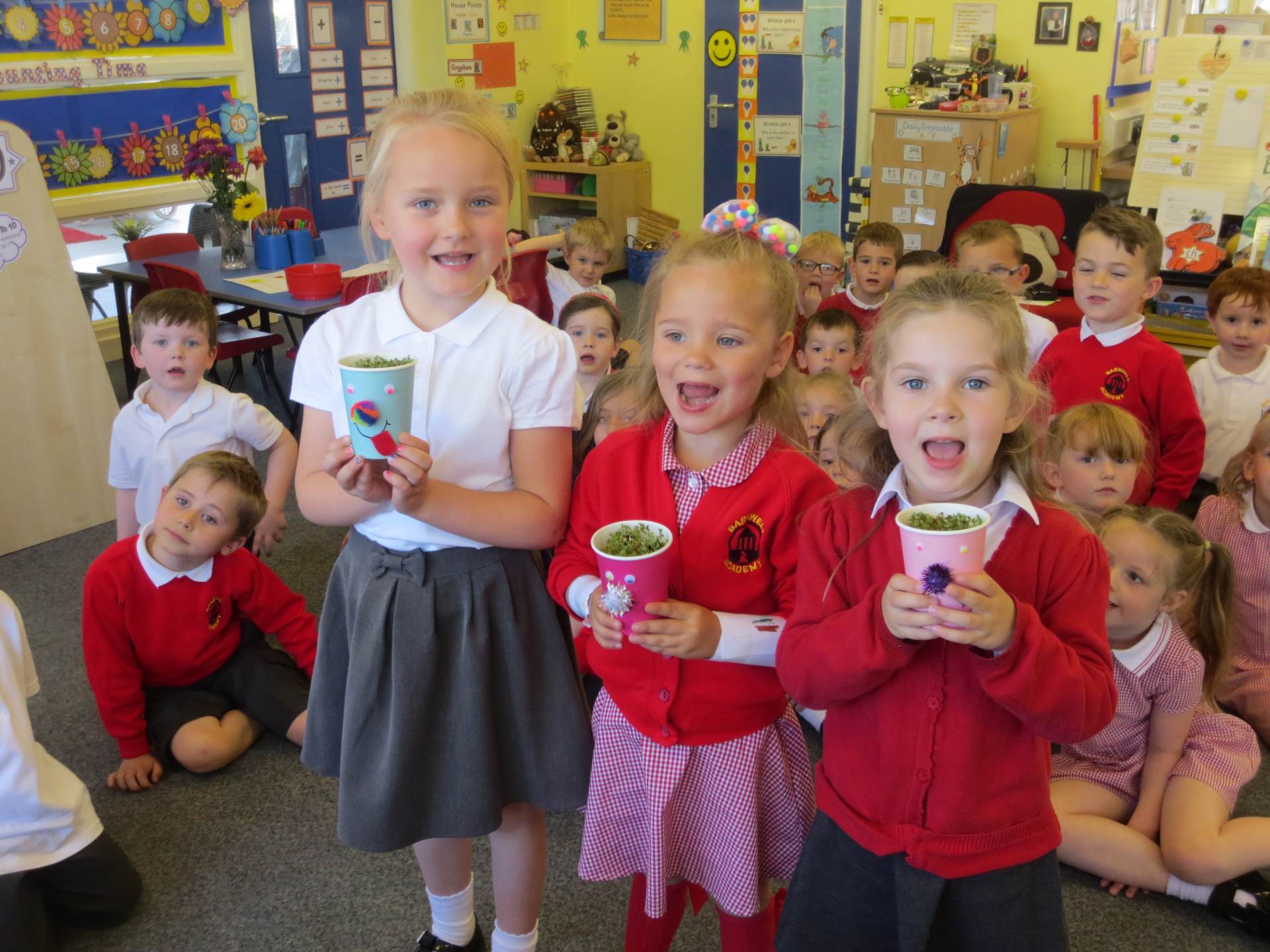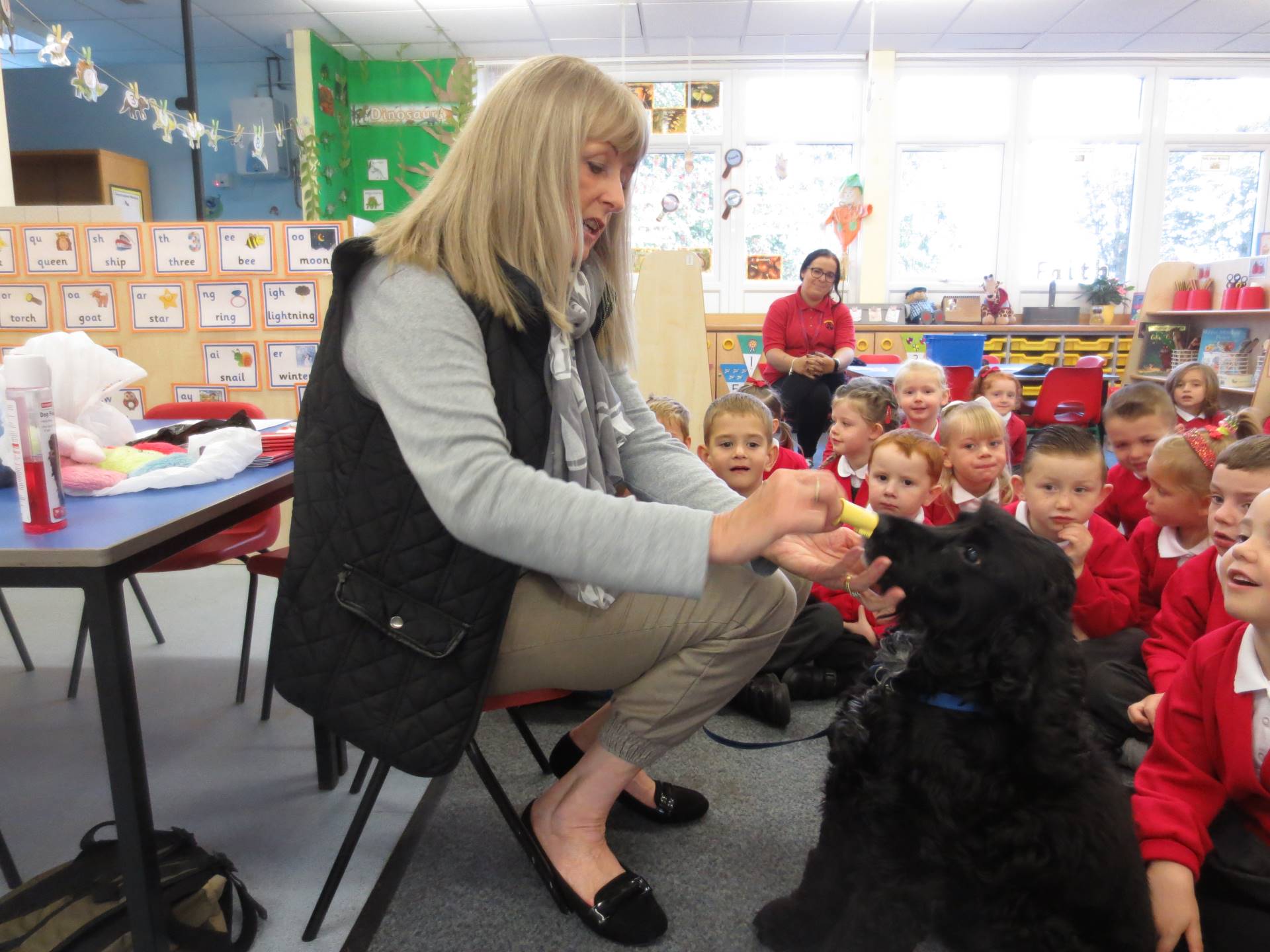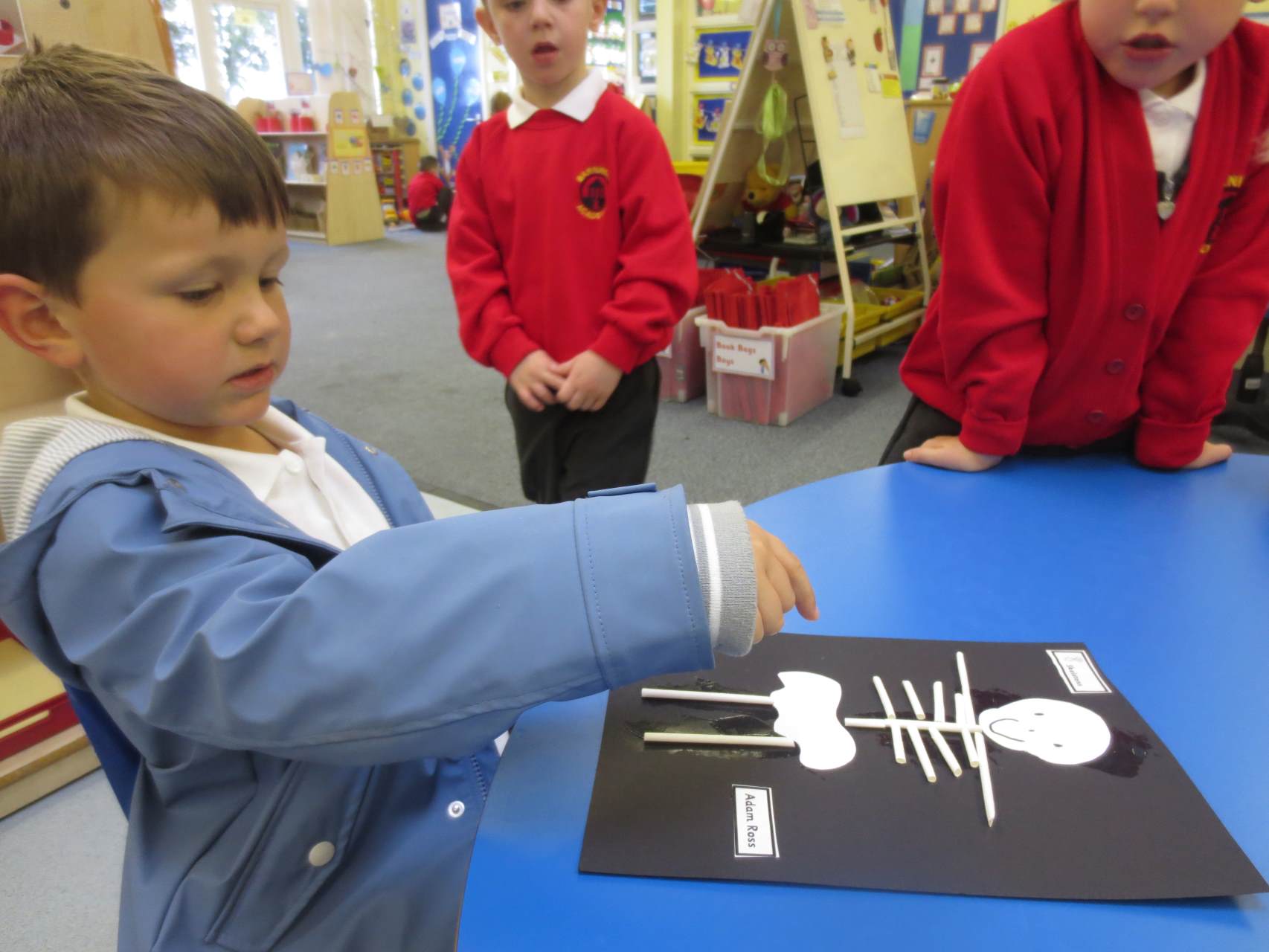 The Jungle
We have really enjoyed exploring The Jungle through lots of different stories. We really enjoyed the Elmer stories, he is very funny and always in mischief.
We retold the stories in our Jungle Role Play and with wooden spoon puppets. We also used lots of describing words when we wrote about jungle animals.
We practiced our cutting skills by making twirling snake.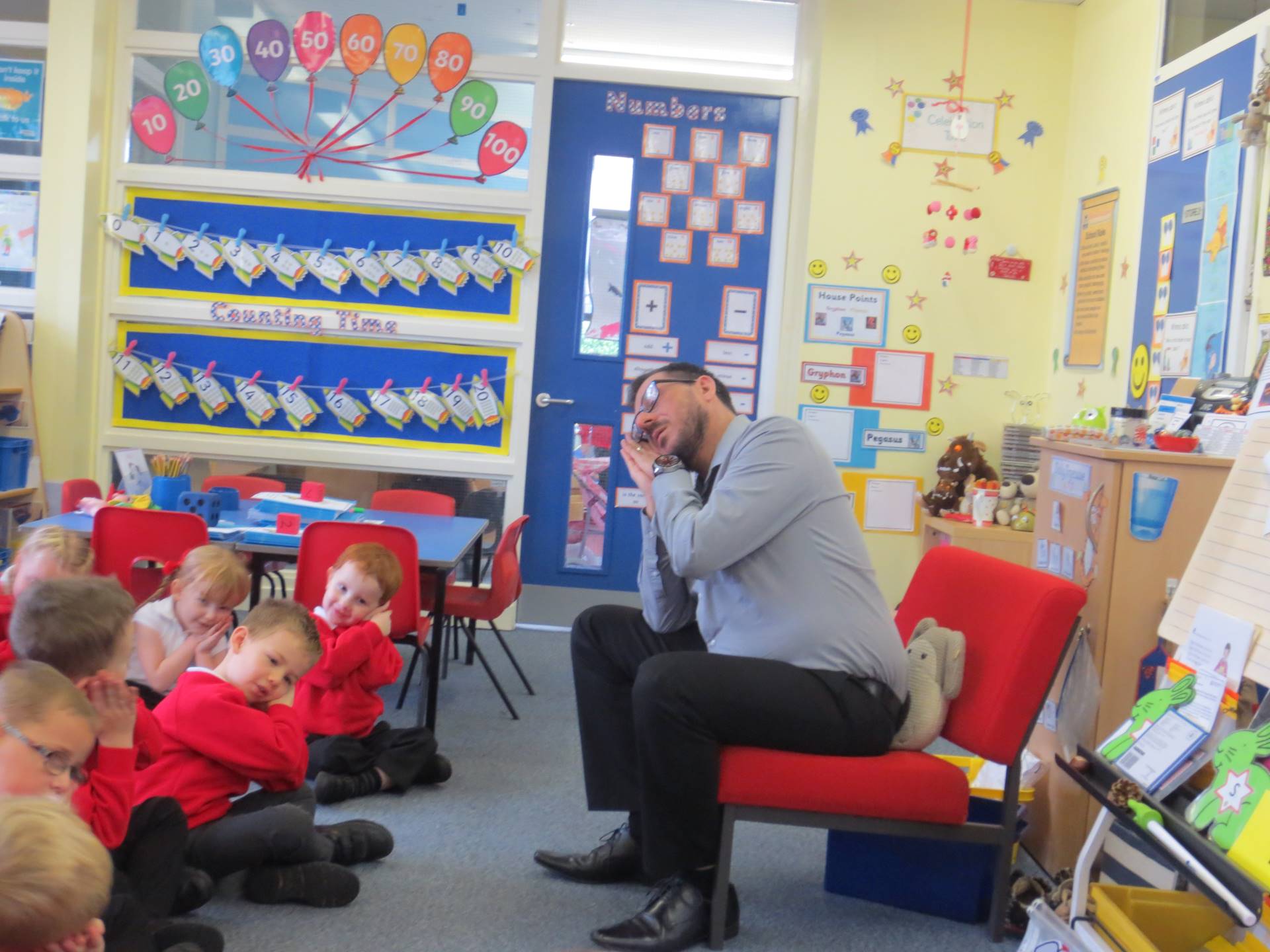 Chinese New Year
We had lots of fun looking into Chinese New Year.
We found out how the 12 animals came to be in the Chinese Calendar and which animal we were. We made a dragon with bright fire and pom pom eyes.
We practiced our writing by describing a colourful Chinese Dragon and our subtraction with dragons.
We also made delicious Chinese Noodles. Chop sticks were tricky so we used spoons and forks.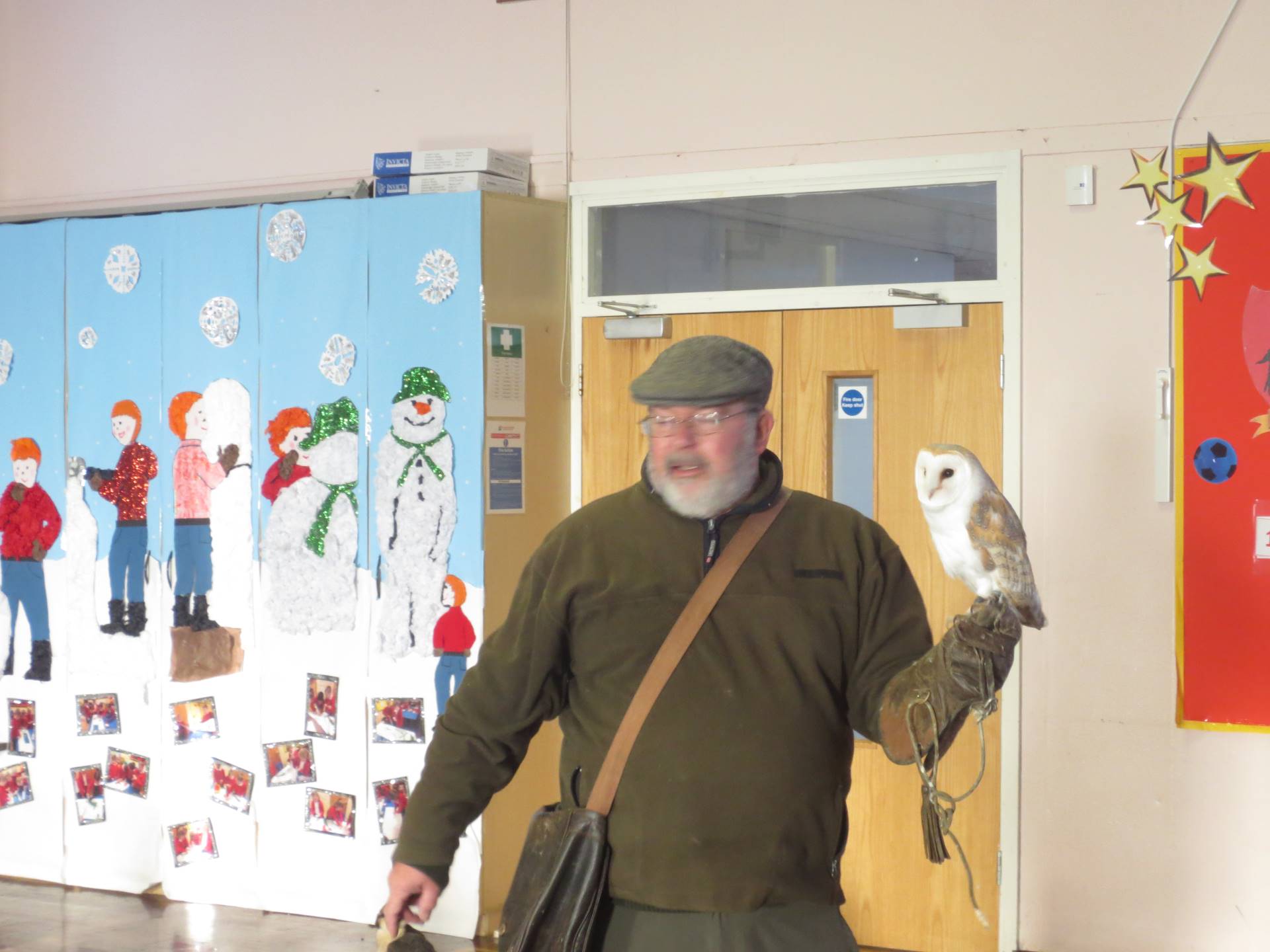 Family Learning
Family Learning has been great fun this year.
Children have worked with their Mums, Nans and Grans on Communication, Phonics, Reading, Writing, Numbers and Shapes to make fun games to play.
World Book Day and Reading Week
This has been a really great theme, one we have all really enjoyed.
We have focused on the texts by Julia Donaldson. The stories are all different, funny and with exciting characters. We went to visit Year 6 and they read some of the stories to us.
We also had a late World Book Day ! The snow stopped the first day but we celebrated later.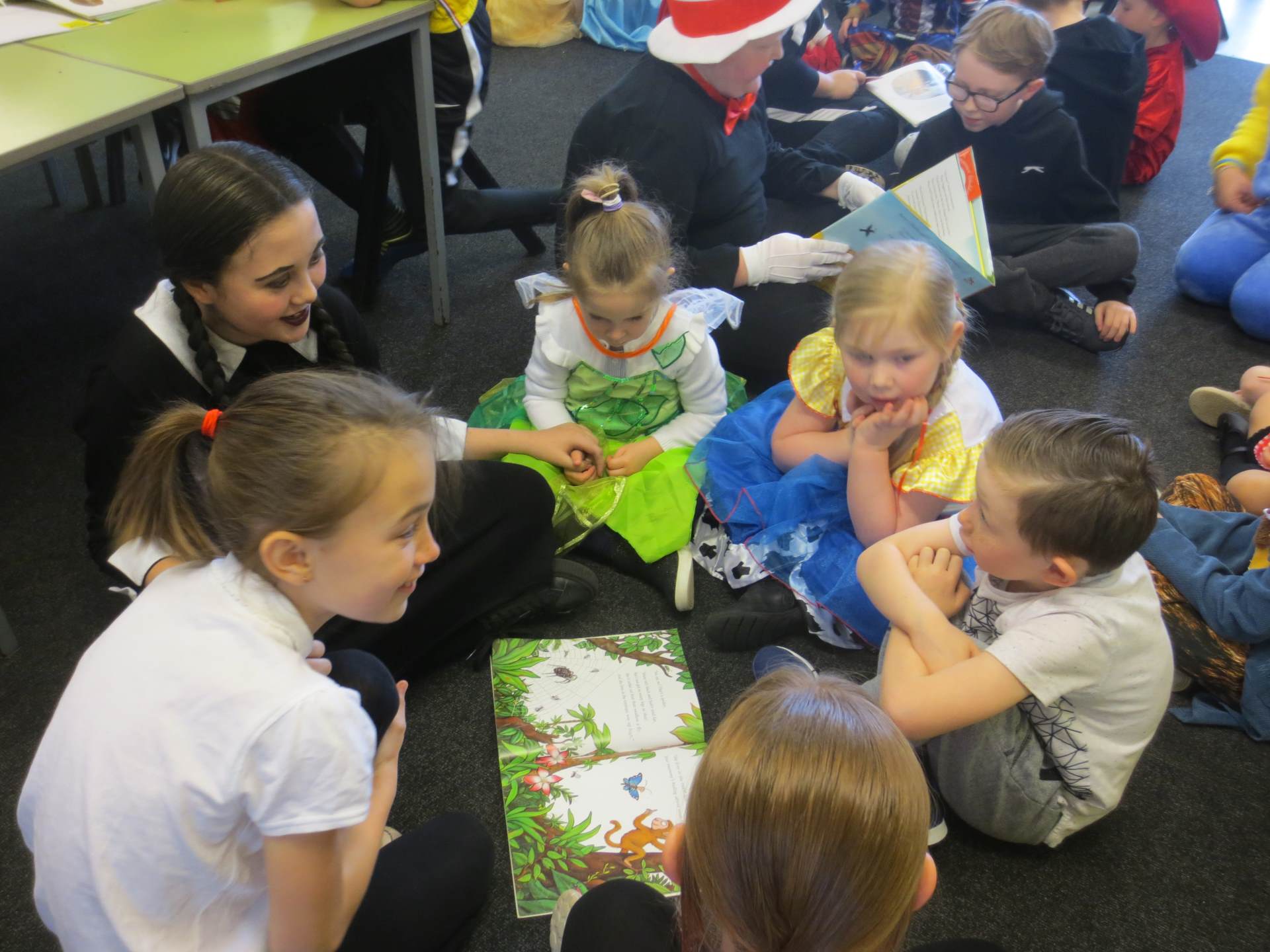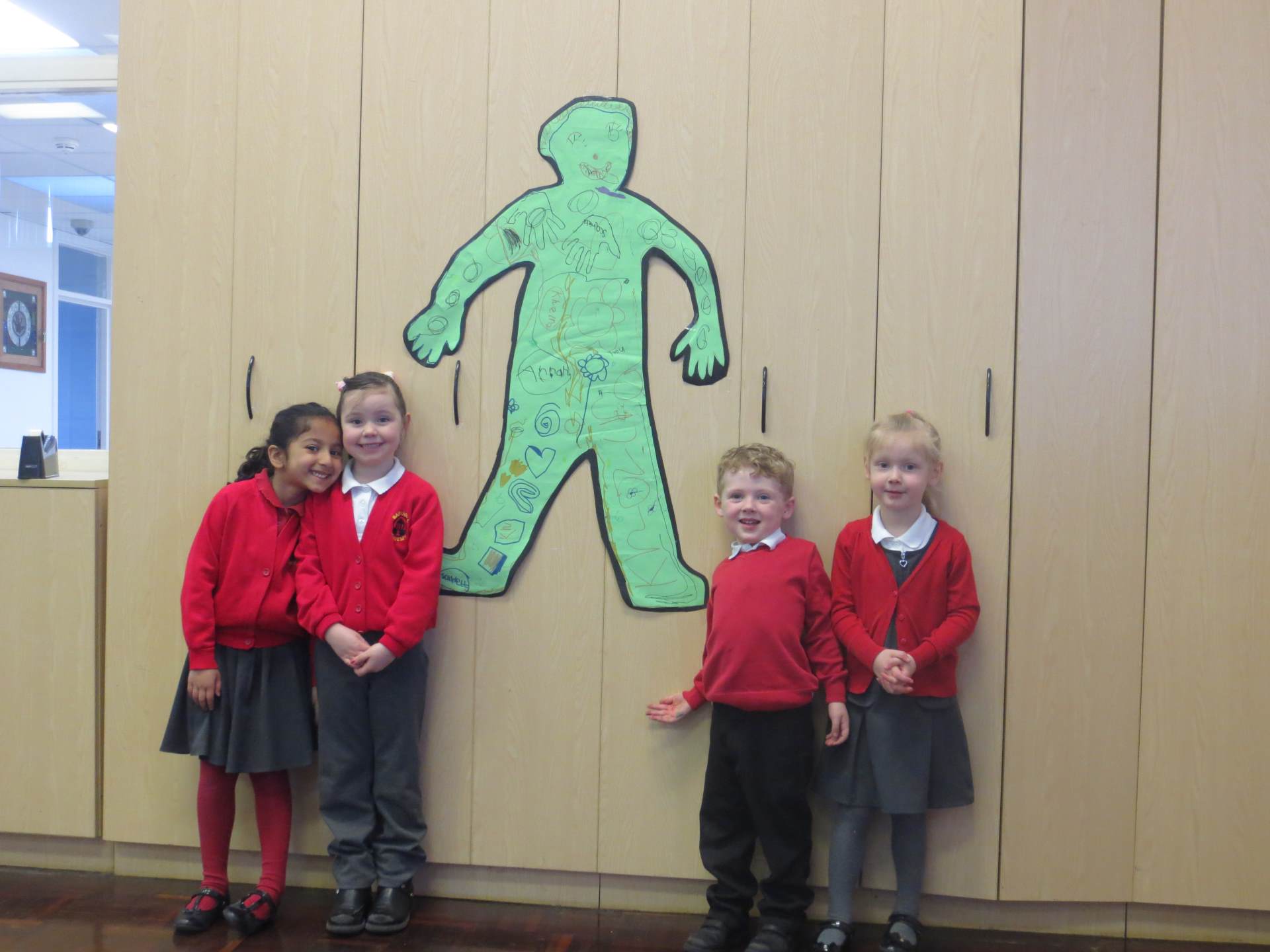 Family Assembly
We were super stars. With very little practice, the snow again, we produced a fantastic assembly all about Fairy Tales and The Gingerbread Man. Our teachers were very very proud of us for doing so well.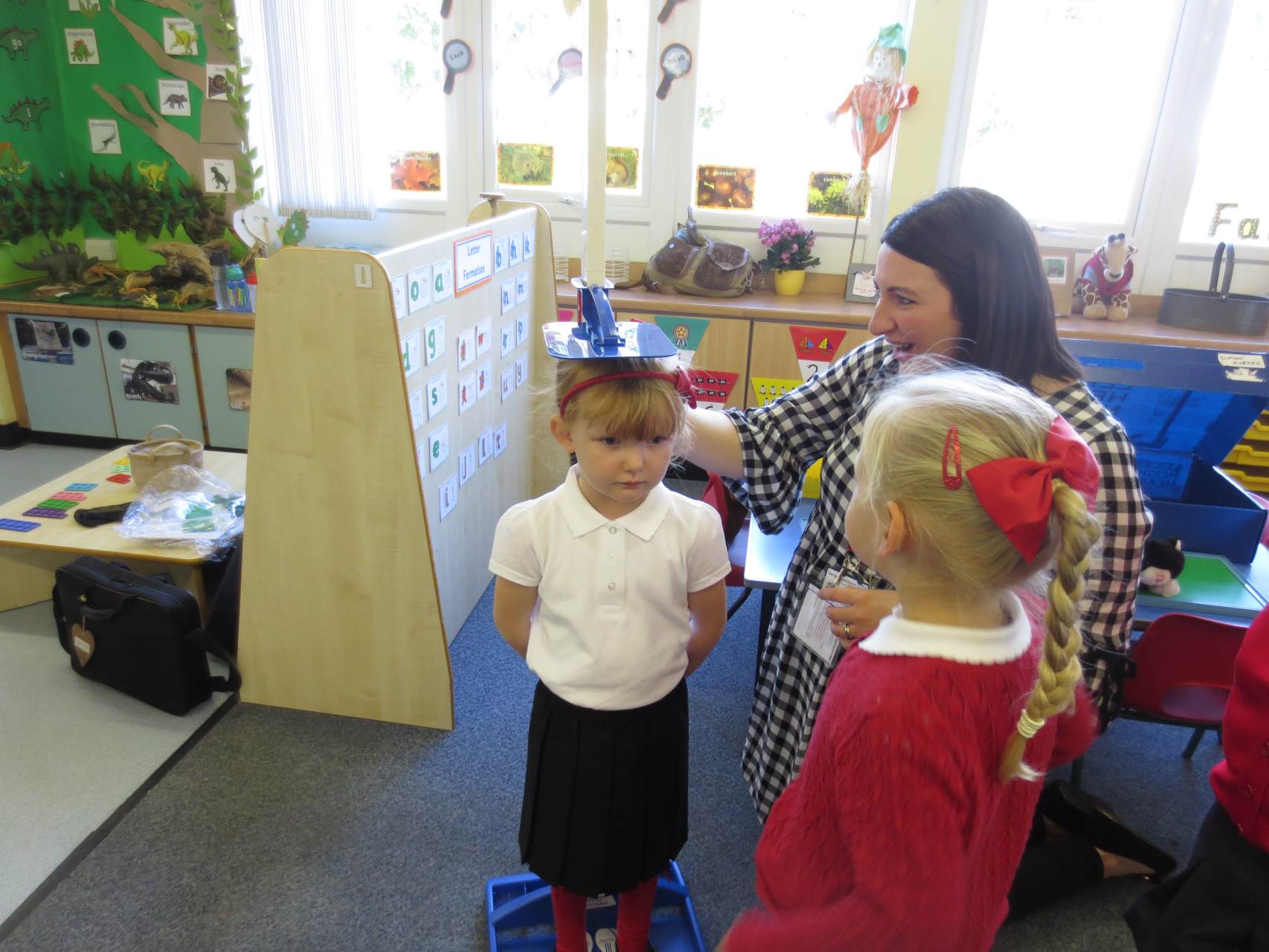 Noah's Ark
We have been learning about God's Special Book, The Bible. We read the story of Noah's Ark. It was fun re-enacting the story using the Chatterbox Bin and wooden blocks.
We have also used 2D shapes to design and build an ark. Our designs were really good.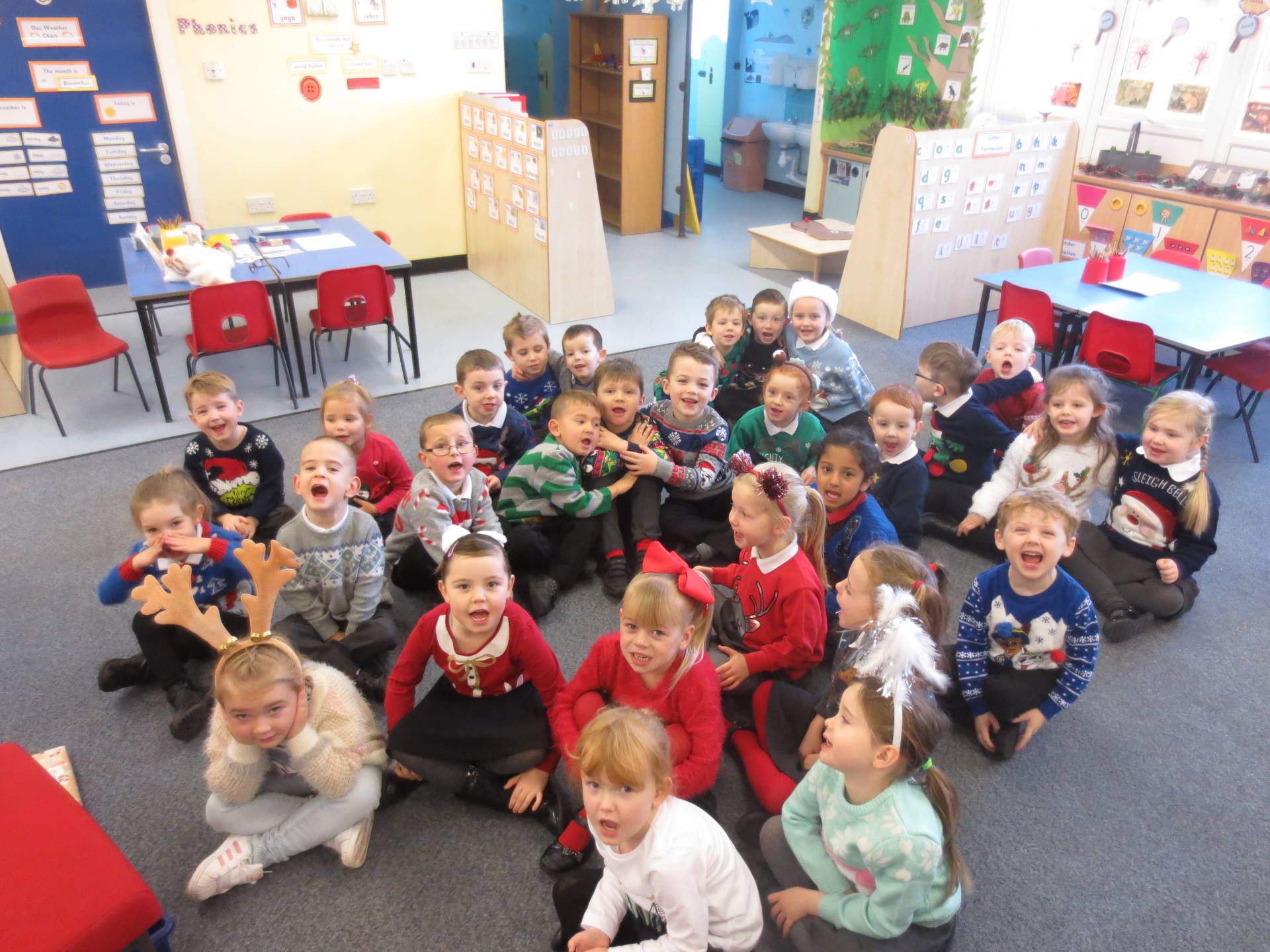 Easter
Easter has been a very busy time in Reception. Just look at this long list,
We hatched 9 chicks and cared for them for 2 weeks.
We designed and decorated an egg for the school competition. Imogen won. Well done.
We made an Easter card using different coloured wool.
We helped to make cakes for the Easter Fair.
We entered a colouring competition sponsored by Novus. Kane won. Well done.
The Reverand Simon Grundy visited our class to read an Easter Story.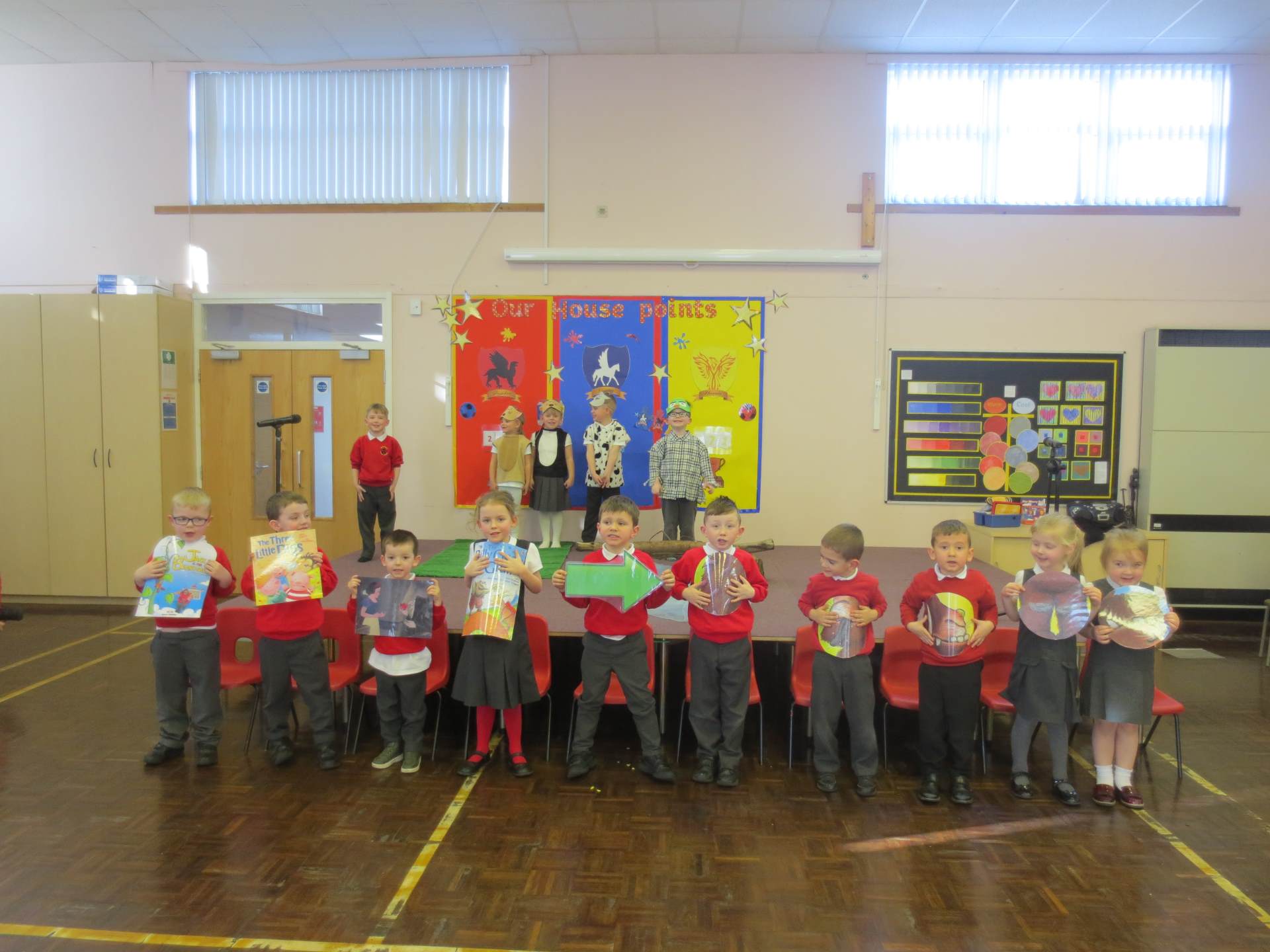 Fairy Tales
We have really enjoyed our Theme of Fairy Tales.
We read The Three Little Pigs and wrote our own version of the story. We retold the story dressed in our costumes and designed and built new houses for the pigs.
We also read The Gingerbread Man. We made ginger biscuits as well.
Trim Trail
"It is amazing" "Wow" "I can't wait to go and climb"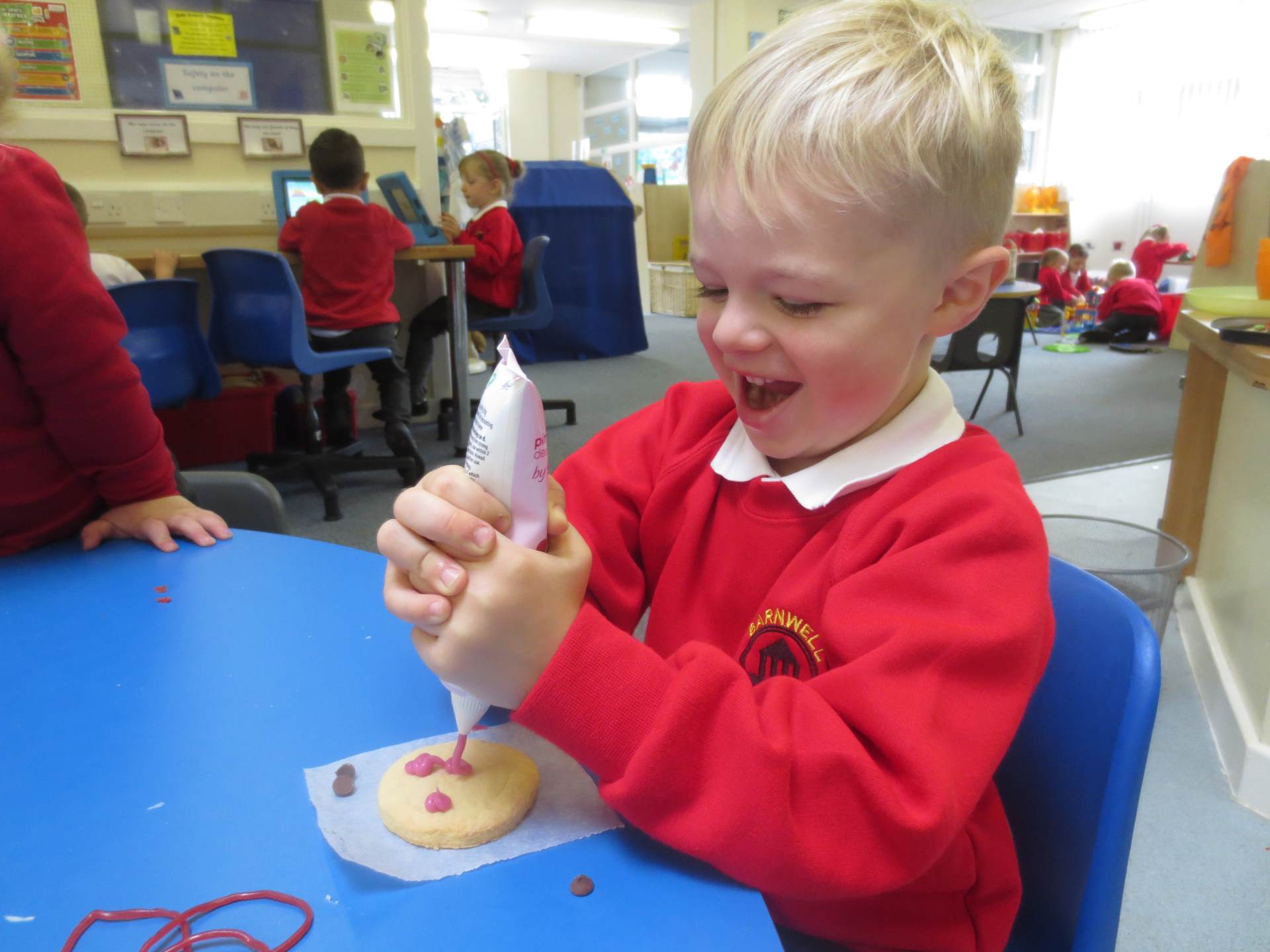 Plants and Growing
We have spent time investigating how to grow a healthy plant.
Do plants need water to grow ? We predicted yes. We were right.
Do plants need sunlight to grow ? We predicted yes. We found out plants could grow in the dark but healthily, the leaves were yellow.
We observed flowers take coloured water up through their stalks to the leaves and petals.
We grew our own Cress Heads.