{SECTION_MENU}
Reception
Welcome to Reception!
It is great to be back at school.
We have also been joined by seven new children. They have settled well into our class and have made lots of friends.
We made face biscuits in our first week.
All About Me
Our first theme is all about ourselves.
We have looked at the skeleton and are learning the names of the bones.
We know the skull protects our brain and the ribs our heart.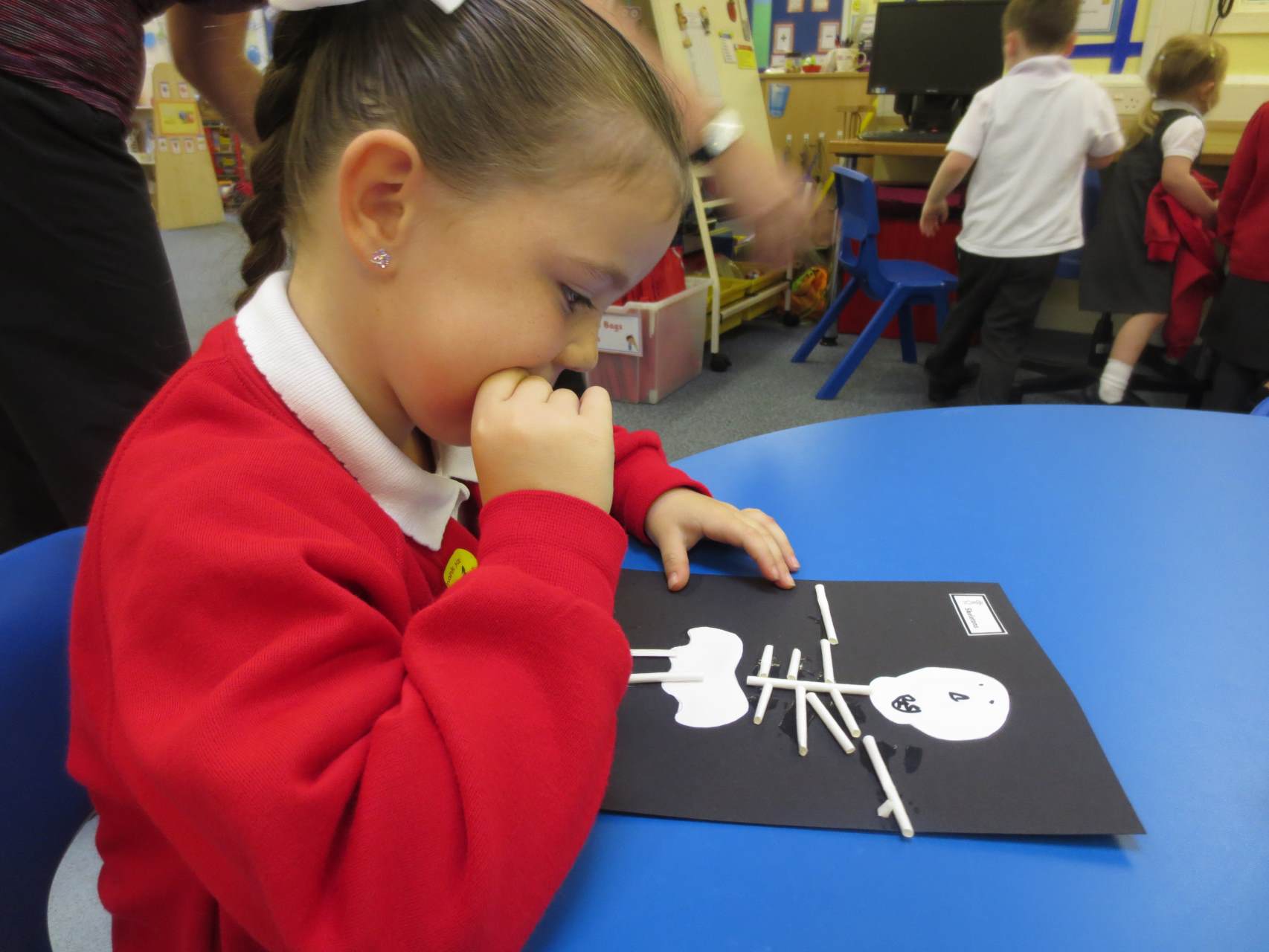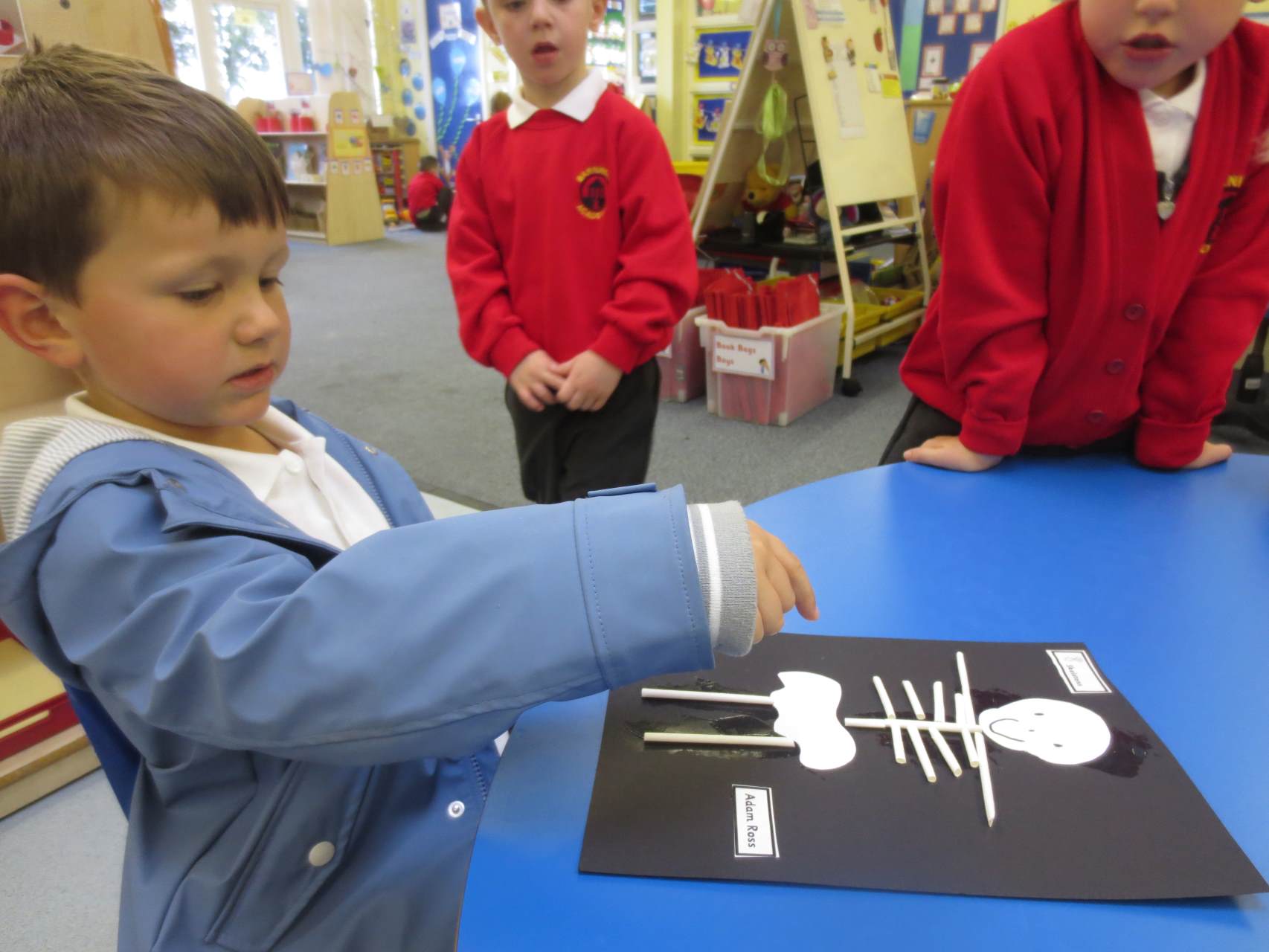 We are also looking at different ways to keep healthy.
We have discussed eating fruit and vegetables, doing exercise, brushing our teeth two times a day and washing our hands to kill germs.
We had a visit from the School Nurses to help us.
They also explained the role of nurses and doctors and how they help us.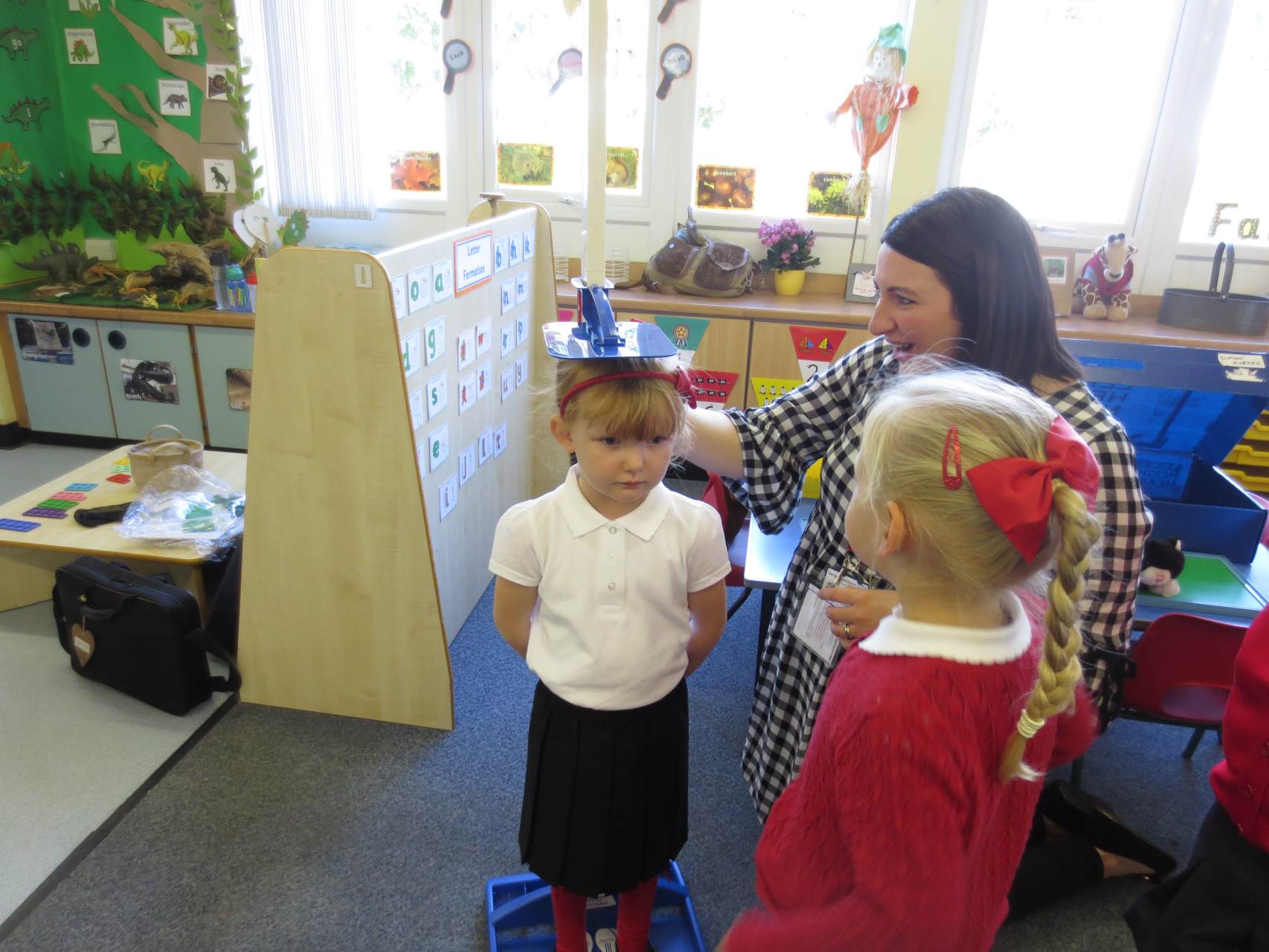 Pets
We have been learning all about pets.
We have discovered how to keep pets safe and well, what food they like to eat, where they like to sleep and how to care for them.
Dylan the Spaniel visited our class.
He enjoyed having his teeth brushed with meat flavoured toothpaste and having his fur brushed.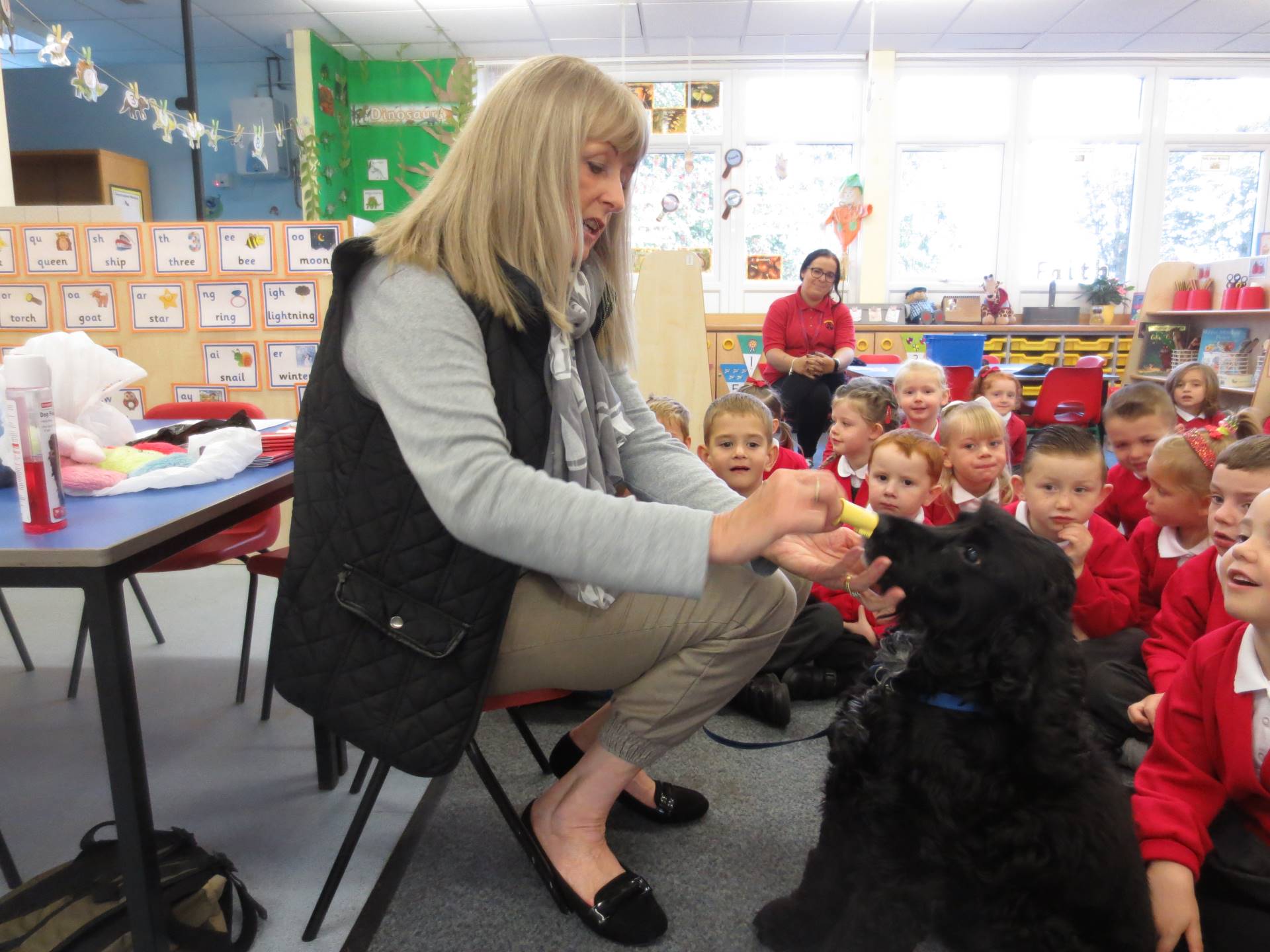 We used 2D shapes to make a kennel for Dylan.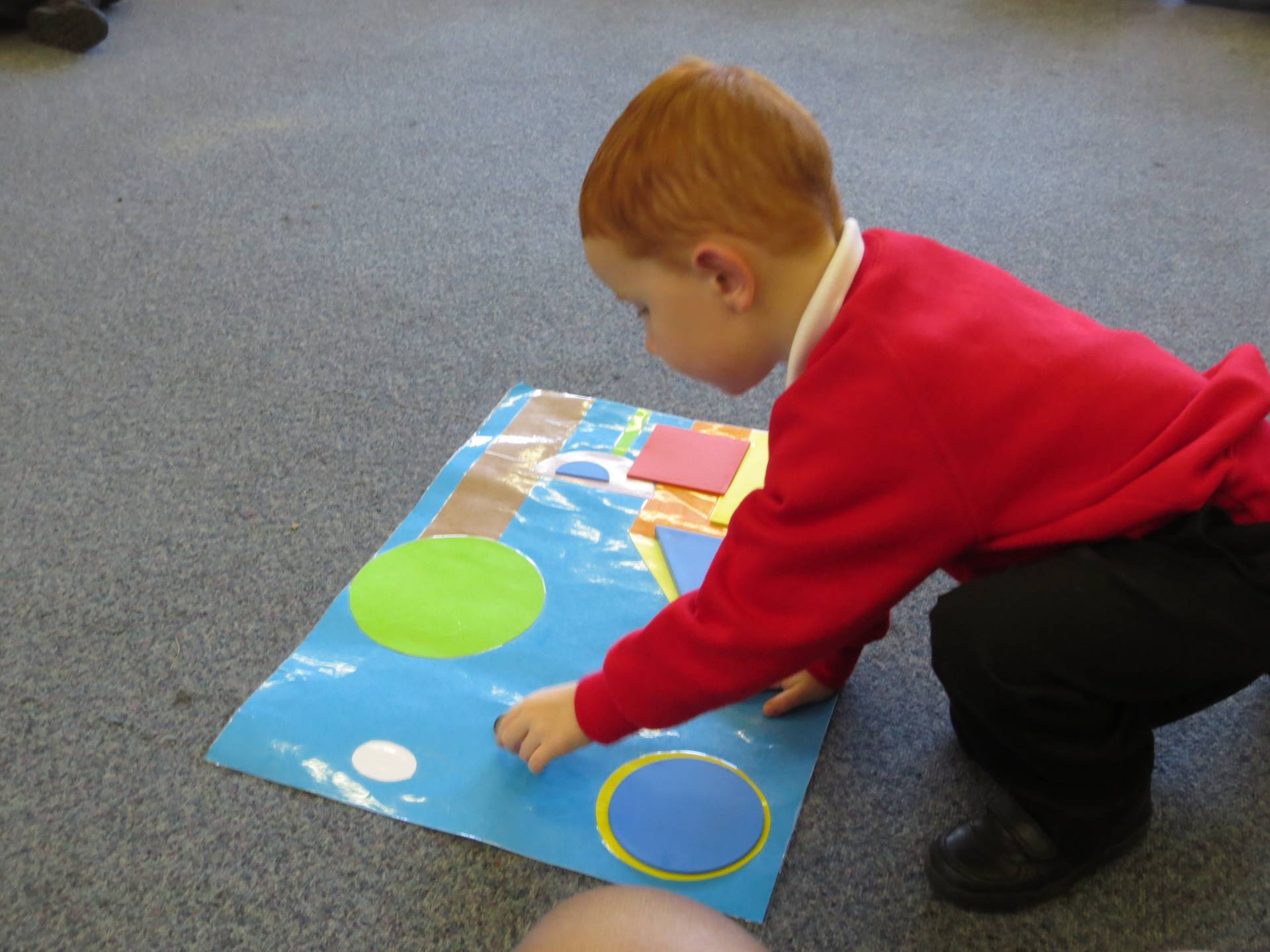 Reading Workshop
Our Parents and Grandparents attended our Reading Workshop.
We sang some of our songs from Jolly Phonics.
Then we explored how we teach Phonics and Reading at Barnwell Academy.
We also discussed how we can practice at home with help.
MacMillan Coffee Morning
The MacMillan Coffee Morning was a huge success thanks to the support of all our families.
We raised over £225.
Reception sang 2 of their favourite songs, Incy Wincy Spider and Row Row Row Your Boat to start the morning.
We held a raffle and guessed the teddy bear's name.
We ate lots of yummy cakes too.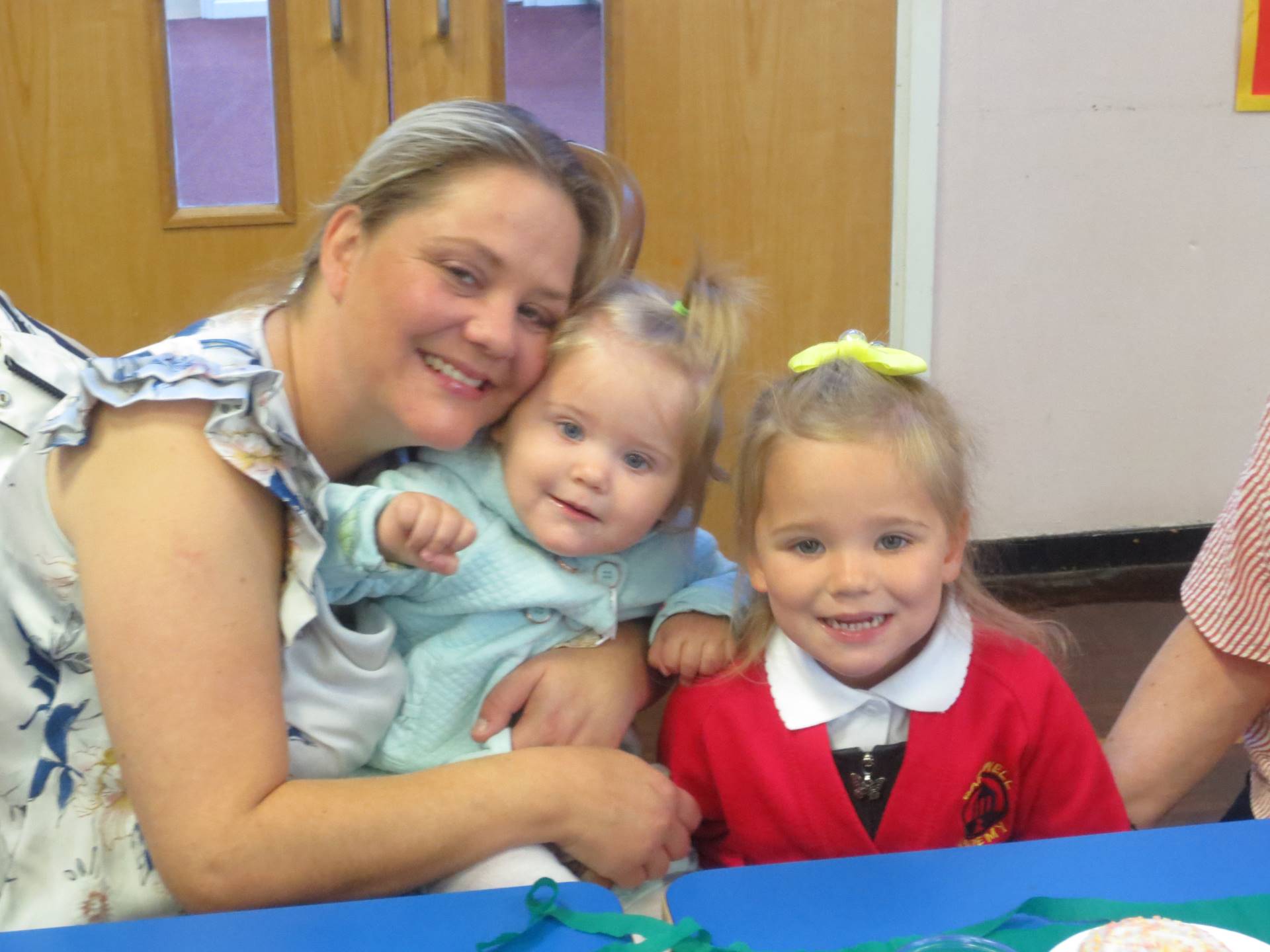 Autumn
We have been exploring Autumn.
We have read stories about Percy the Park Keeper, including After the Storm, and wrote about his animal friends.
We used Percy's tree house to find different positions and name them correctly, inside, outside, next to, in between, on top, above, under, in front and behind.
We also had a visit from the RSPB.
Jill helped us to use our senses to explore the environment. We looked at the changes to leaves, lots of different colours.
Spanish Day
We had a really great day with lots of fun activities.
We started with a Spanish lesson. We learnt how to say hello, good day, bye and good night. We also counted from 1 to 5.
After we listened to Mr Longstaff play his classical guitar. The Spanish music was very lively, we clapped and tapped our feet in time to the music.
We watched a DVD of children performing a flamenco dance. It was very tricky but we all tried really hard and were able to perform some of the moves.
Miss Smith helped us to prepare a Spanish Feast. We had Tapas to eat and Sangria to drink. It was delicious.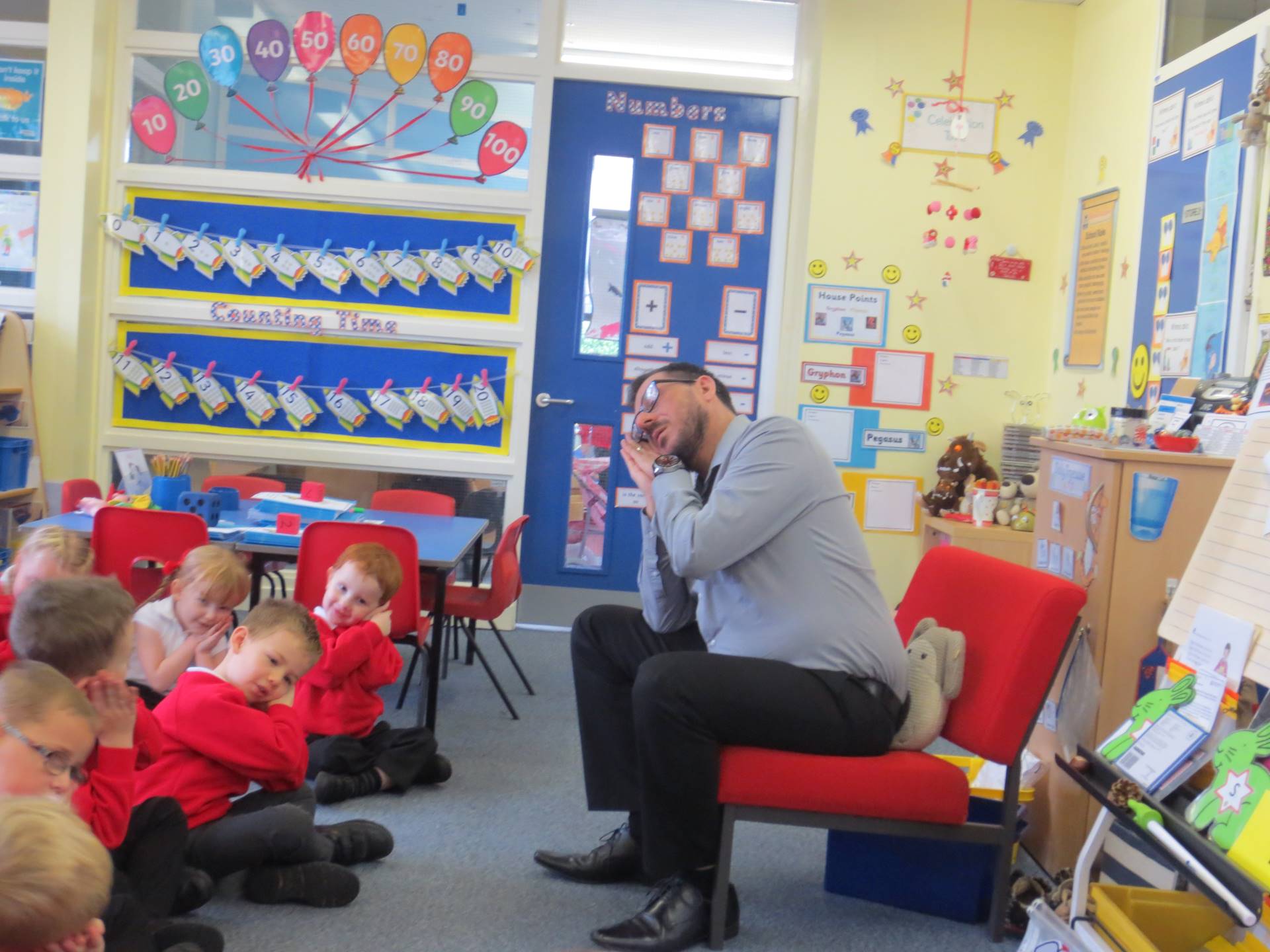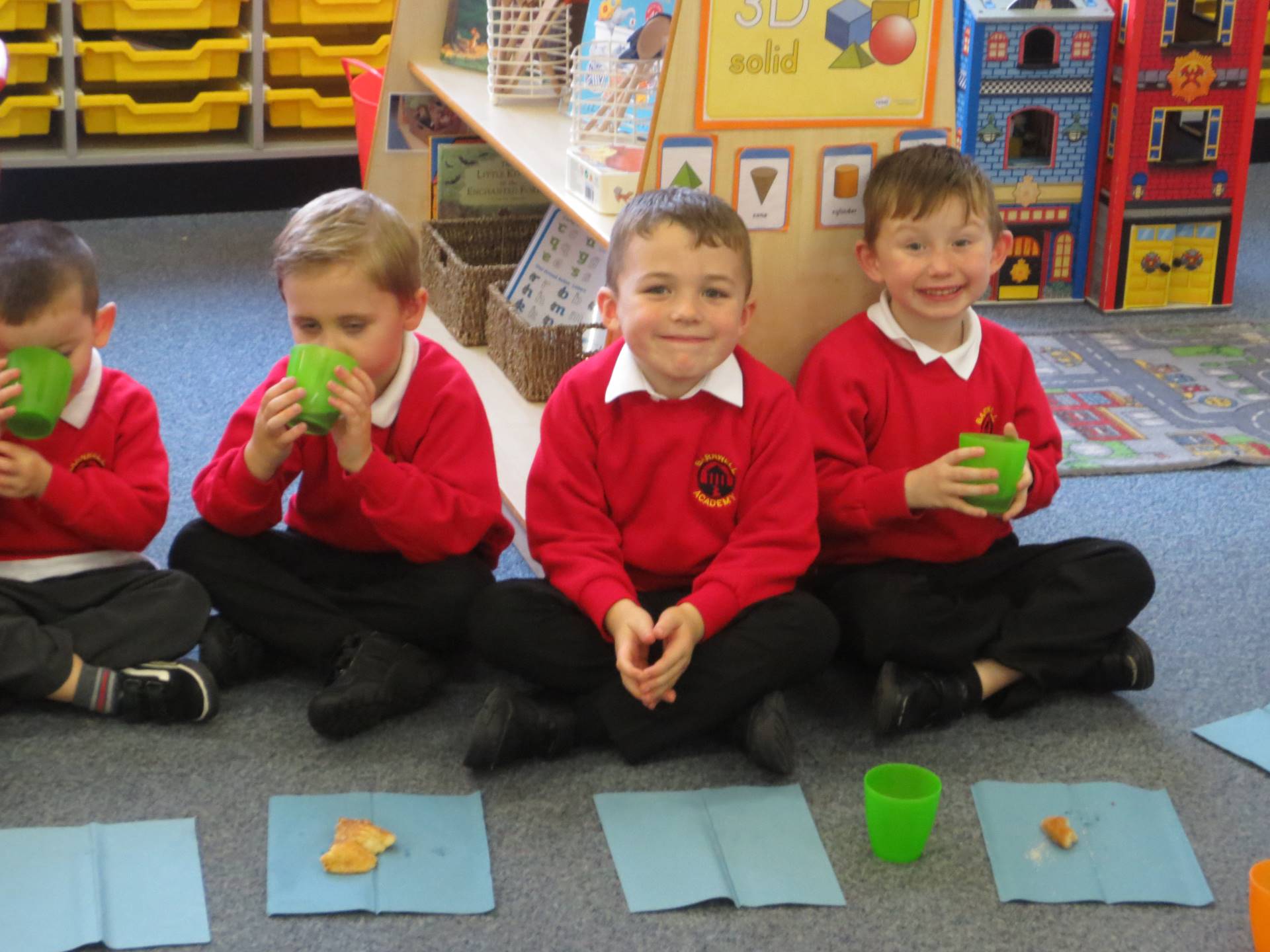 Celebration of Light
We are exploring celebrations with light.
We had a Halloween Disco. The pumpkins had lights inside.
We have looked at Celebrations in the Christian Church. We looked at Wedding and Christening when candles are lit.
We looked at the Hindu Faith and Diwali.
We made divas with clay and added a small teal light.
We had a Celebration Party.
We played party games, had a party tea and had a birthday cake with a candle to blow out.
We had onion an bhaji and a vegetable samosas. They were spicy.
We lit our diva candles. They made the hall glow.
Anti-Bullying Week
We have participated in Anti-Bullying Week.
We made Friendship posters saying how we can help our friends and who to go to if we need help.
The NSPCC came into to talk to us about how to stay safe.
We also took part in Odd Socks Day.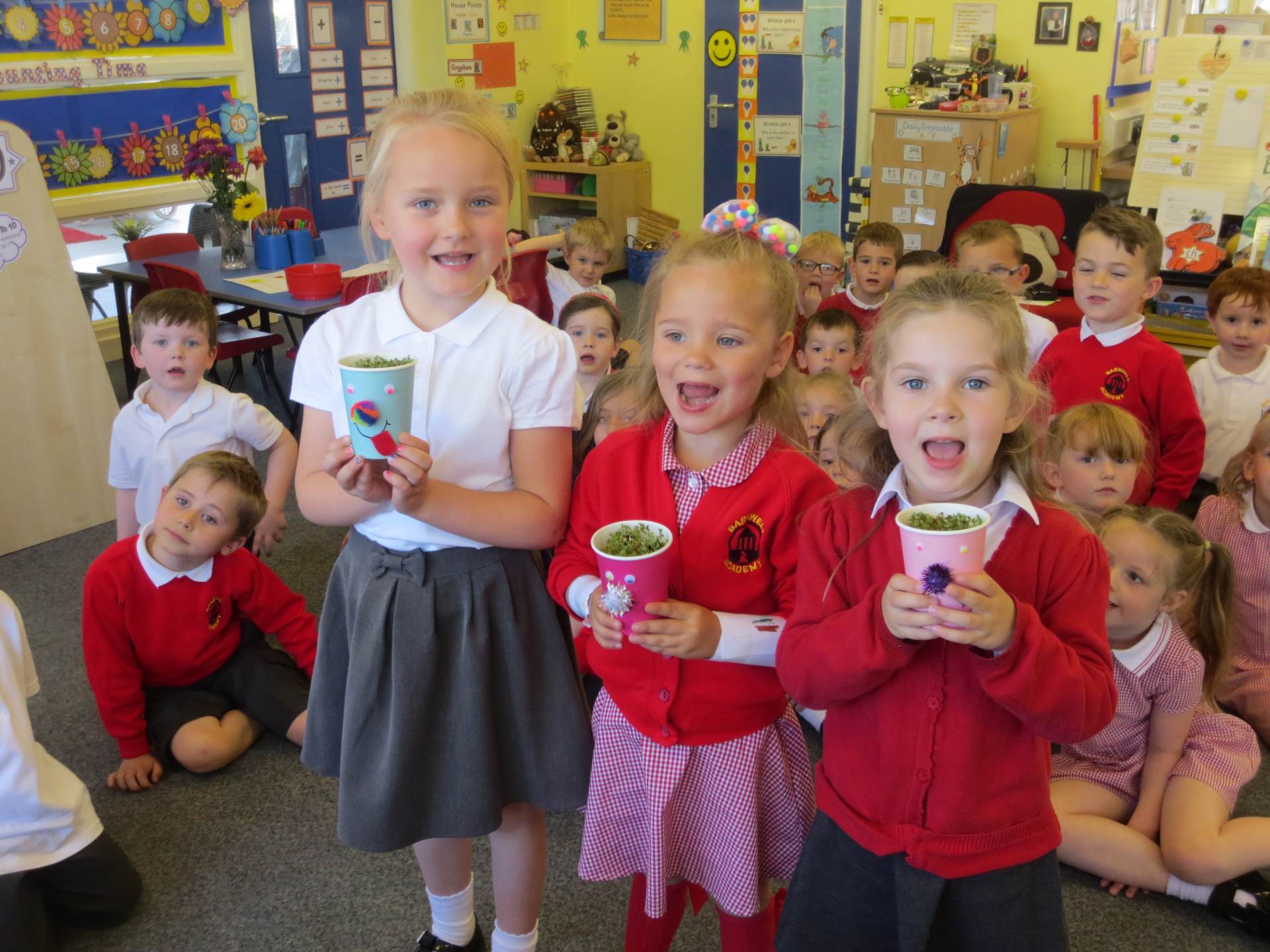 Pudsey Bear Day
We have had a great day in school celebrating Pudsey Bear Day whilst raising money for Children in Need.
Year 6 ran a Penny Fair in the school hall. Lots of fun games and yummy cakes to eat.
Pudsey came to visit our school in the afternoon.
We then enjoyed watching Pie the Teacher.
Mr Lig, Miss Brown, Mr Sadler and Mr Longstaff were the lucky ones to be chosen.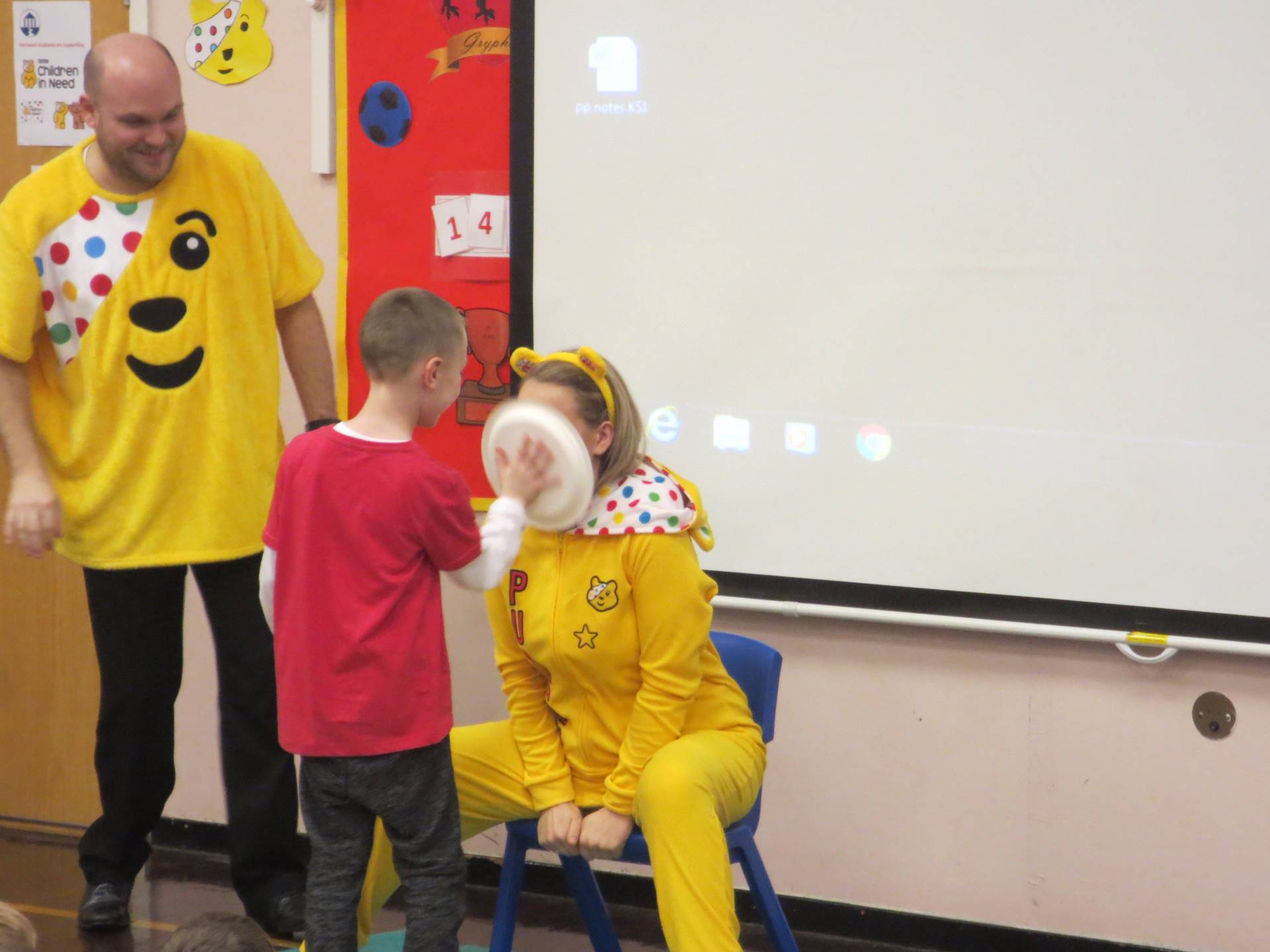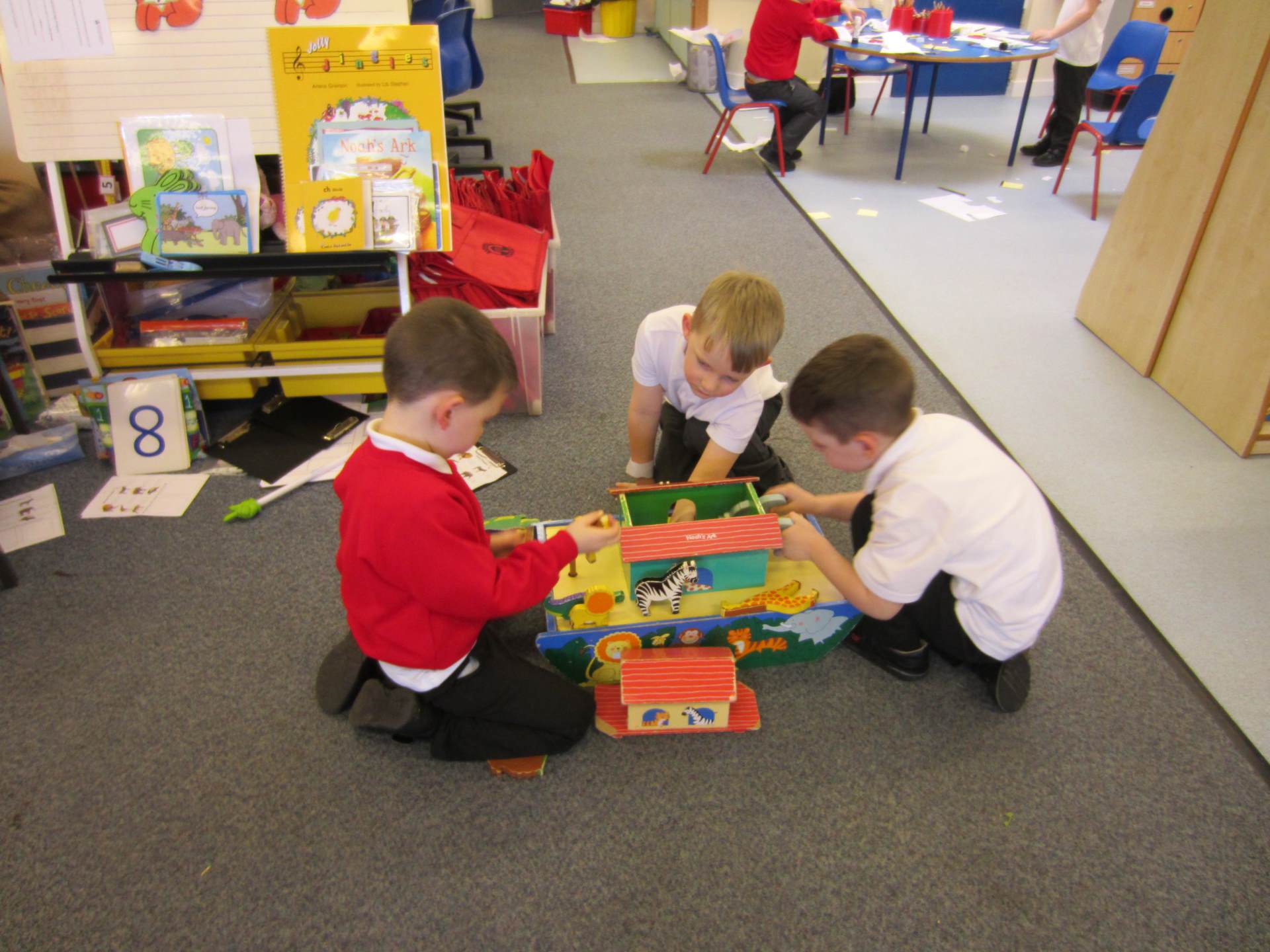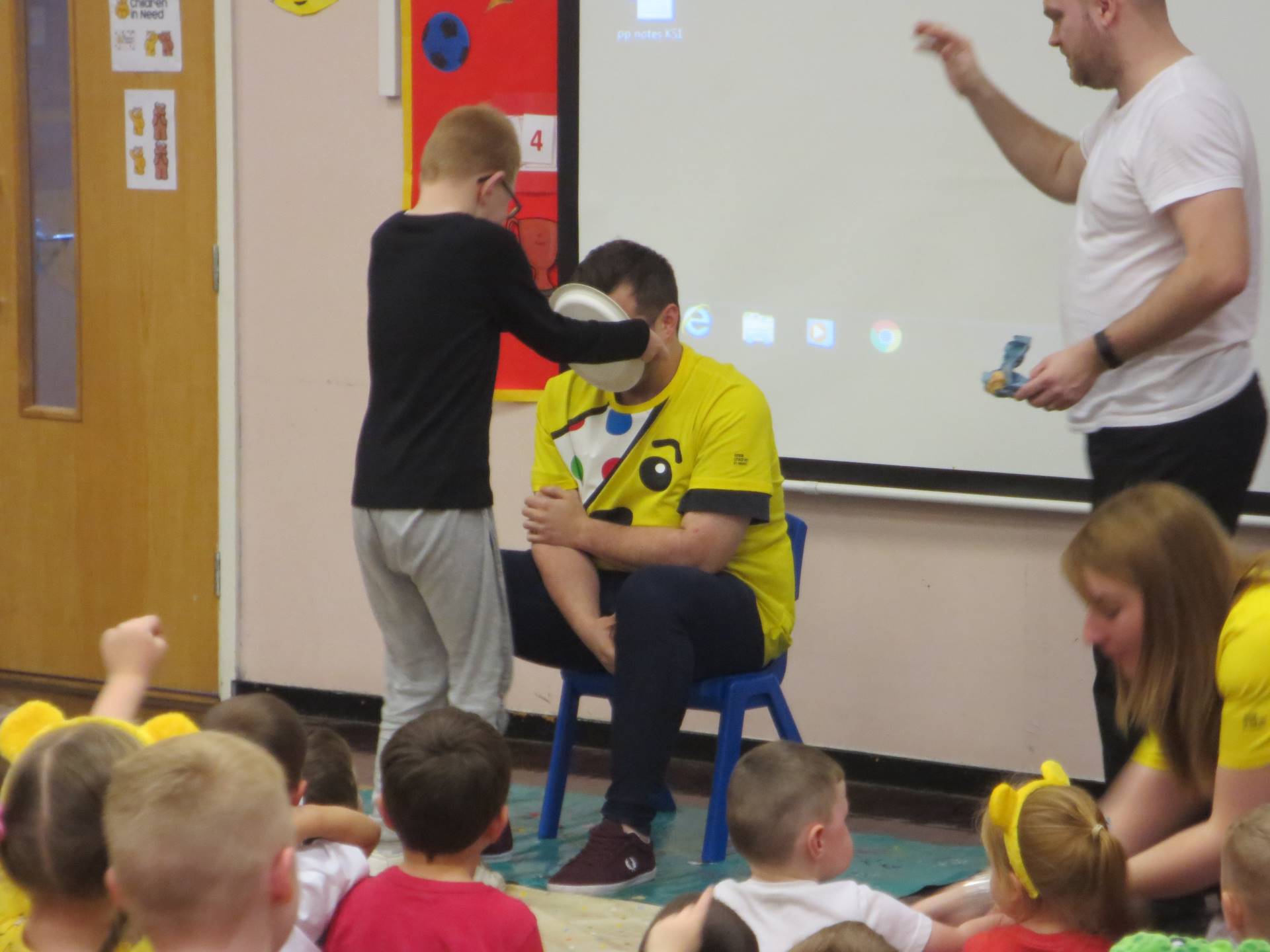 Toys
We are exploring toys in readiness for Christmas.
We have written a letter to Santa. We hope he comes to visit our class and read them.
We have also looked at toys from the past and toys of today.
We liked the toys of the past, some of the games were quite tricky. We had to practice with the Cup and Ball. The toys were mostly made of wood, did not move, make any sounds or change colour.
We really liked the toys of today. They were colourful, could make sounds and change colour. The Walkie Talkies were great fun
Christmas Production
A Present for the Baby
We performed our Christmas Nativity play for our families.
We were amazing.
Great singing. Great acting. Great speaking to tell the story.
Everyone was extremely proud of us.
Christmas
We are having a wonderful time getting ready for Christmas.
We are busy sorting Santa's presents for the sleigh.
We are checking which are heavy and which are light.
We are then using non standard units to see how heavy they are.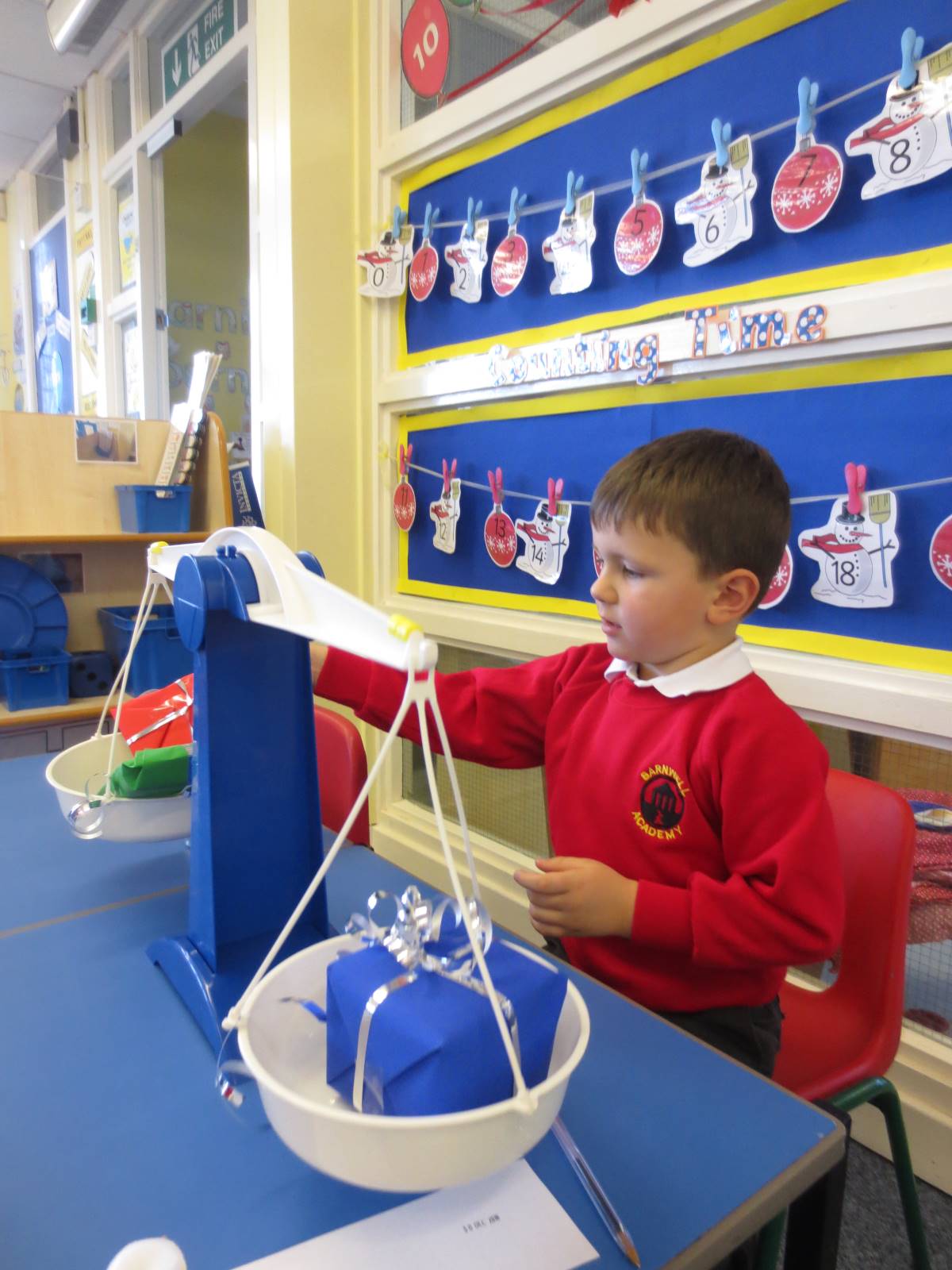 Christmas Jumper Day
Great fun.
We all wore our Christmas Jumpers for school.
We held a fashion show to share our jumpers with our friends.
We all agreed that we looked fantastic.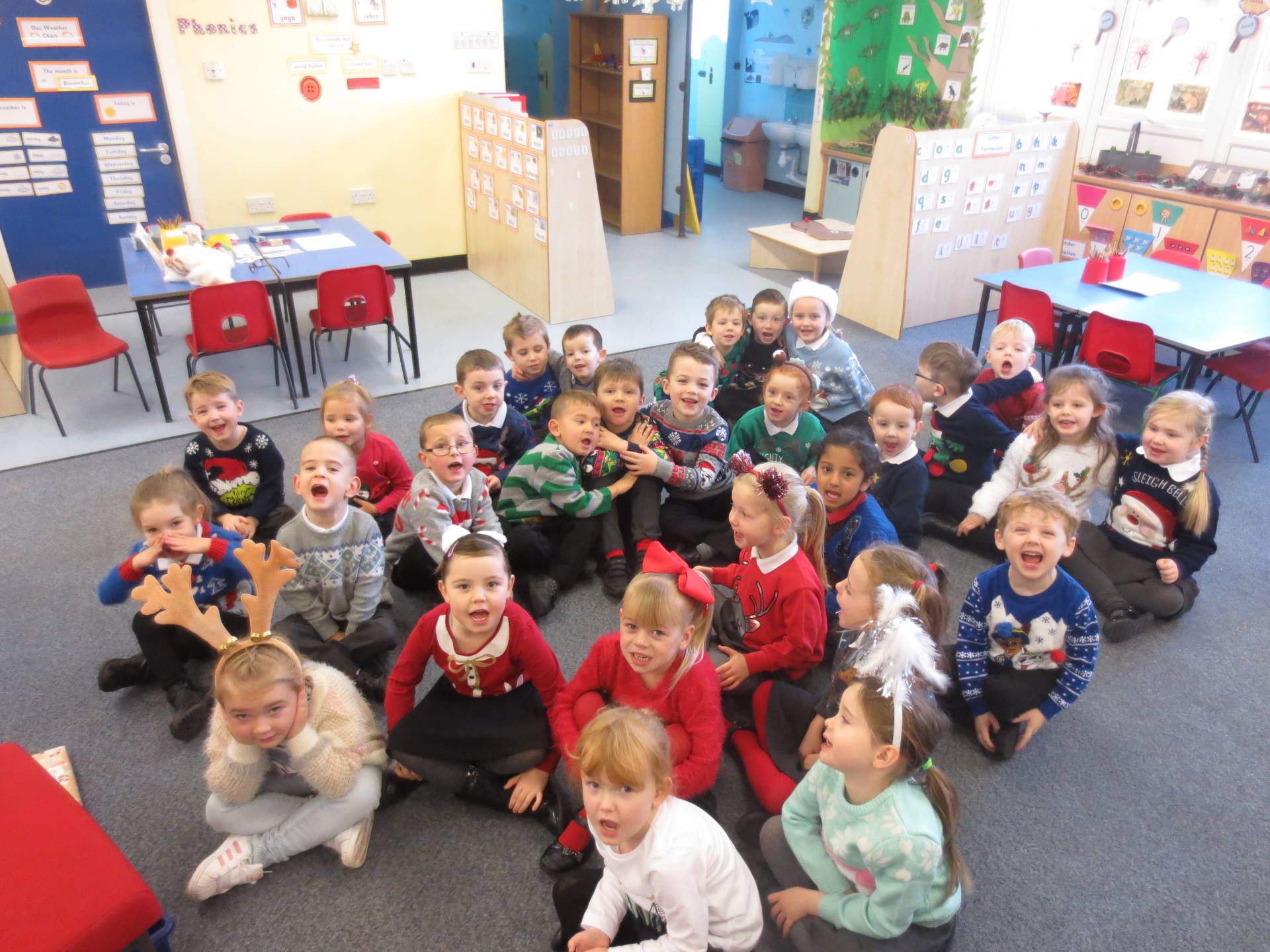 The fun did not stop there.
We had a visit from Olaf.
Then we had our Christmas Lunch.
Christmas Party
We had a wonderful Christmas Party.
Here we are before we went into the hall. We looked so smart in our party clothes.
We danced to Baby Shark, played party games and the ate our tea.
After we sang our favourite Christmas song and Santa appeared.
He had his good list, we are all on, and he brought us a gift.
Winter
We had a visit from Olaf.
He read a book called One Snowy Night in the story corner. Then he sat on a log and chatted to the snow owls and snow rabbits. Lastly he built an ice castle with the Lego.
Olaf lost his nose but came back to collect it.
We wrote all about his visit.
We also explored melting chocolate and making sticky icing to make a snowman cake.
They looked great.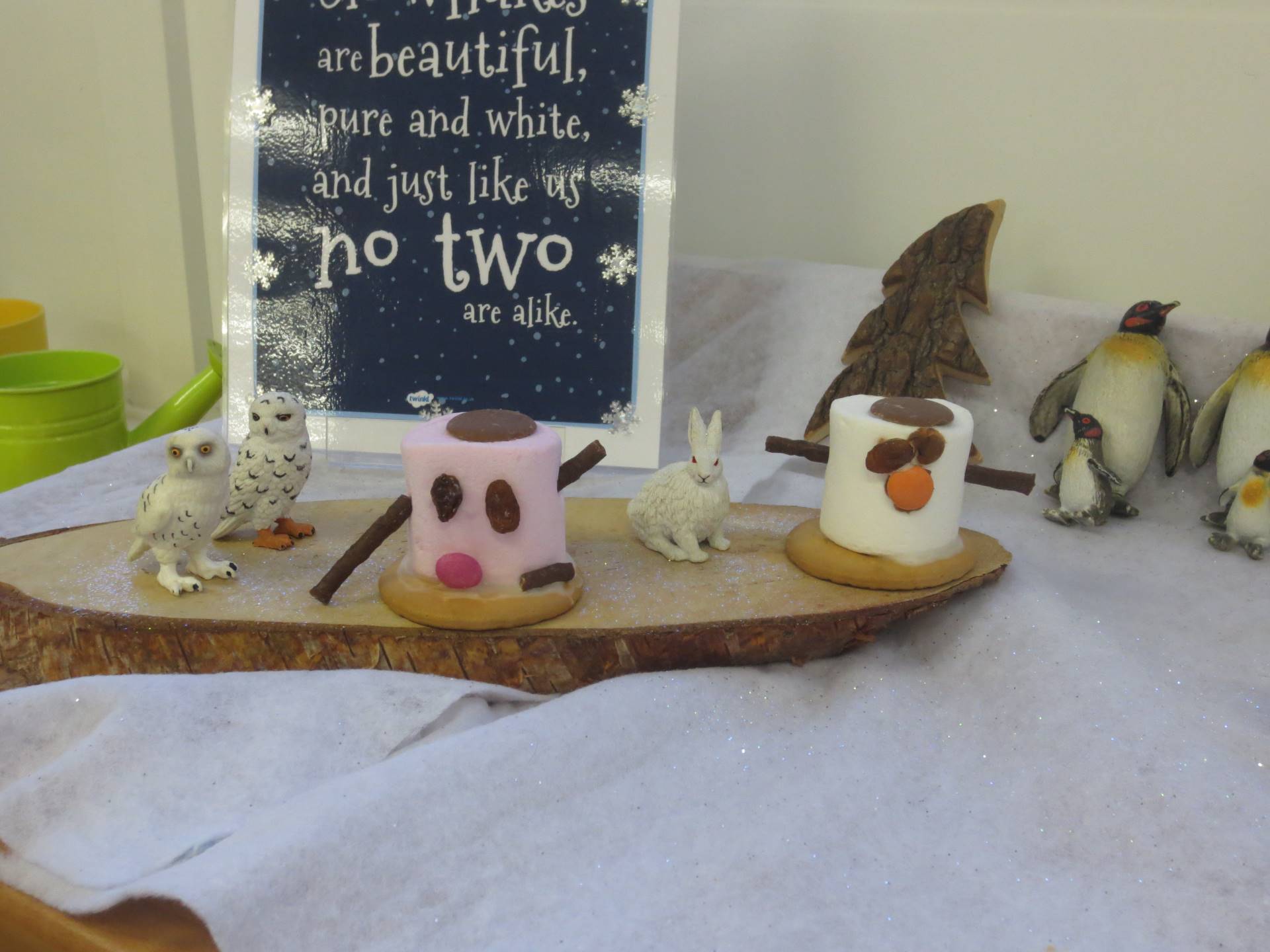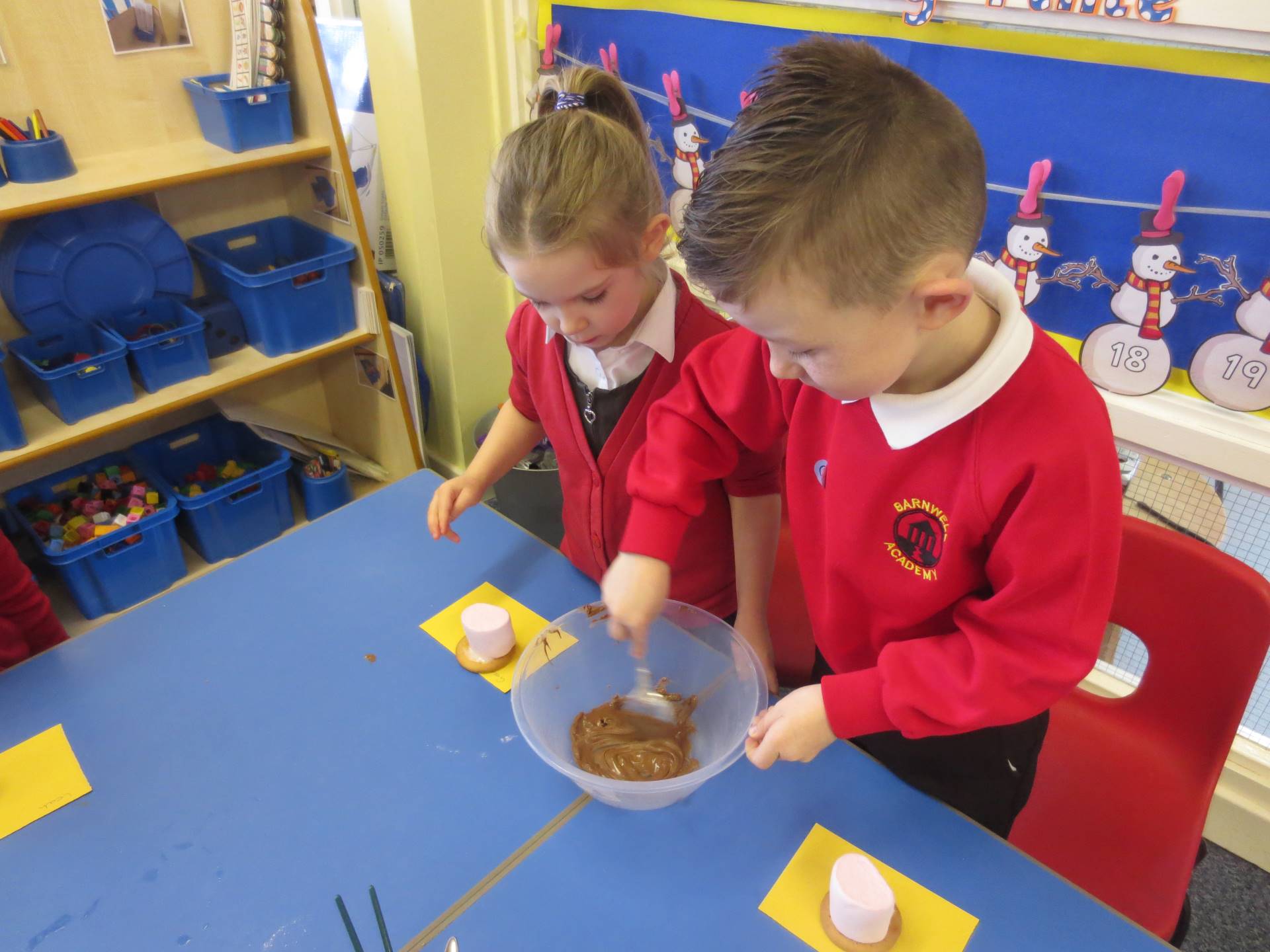 Night and Day
We have been exploring the differences between night and day.
We have investigated dark with torches in the black out tent.
We also had a visit from Durham Falconry.
We learnt about day and night birds of prey, a hawk, a falcon and an owl.
WE also had the opportunity to hold one of the birds.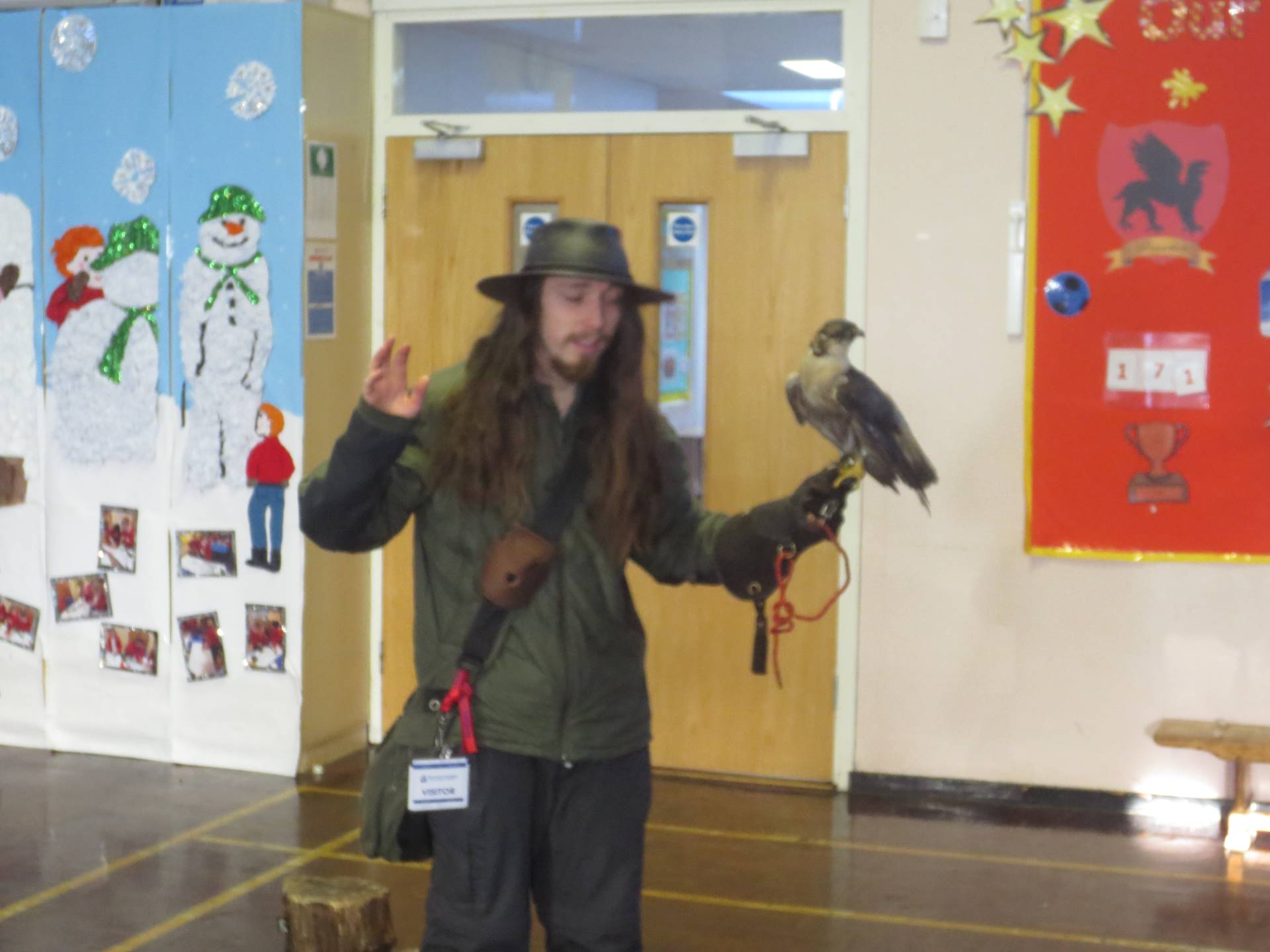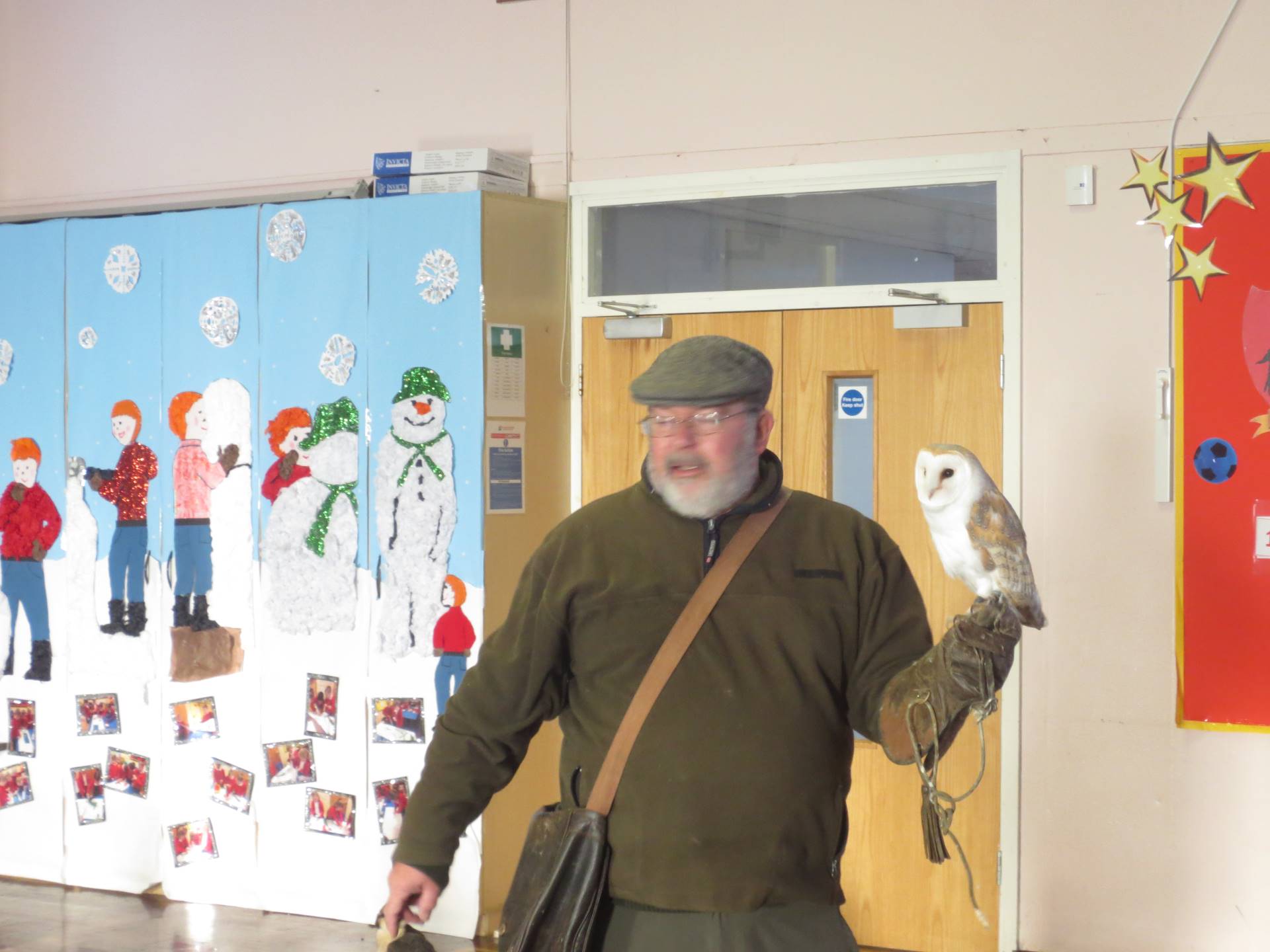 Super Heroes
We have had great fun being super heroes.
Lots of work.
We read about Supertato. He captured the Evil Pea.
We made ourselves into a super hero and wrote about our costumes and powers.
We helped a super hero find the missing numbers.
We used Numicon to count the tall towers a super hero flew over.
We used non-standard units to measure height of a super hero.
We printed a super hero using our hand prints.
We estimated the distance of the tricky words to help the super hero Bee Bot reach the word they needed.
World Book Week
We have looked at and compared lots of books by Julia Donaldson.
We went to Year 6 to read the stories. They were really good.
Thank you Year 6.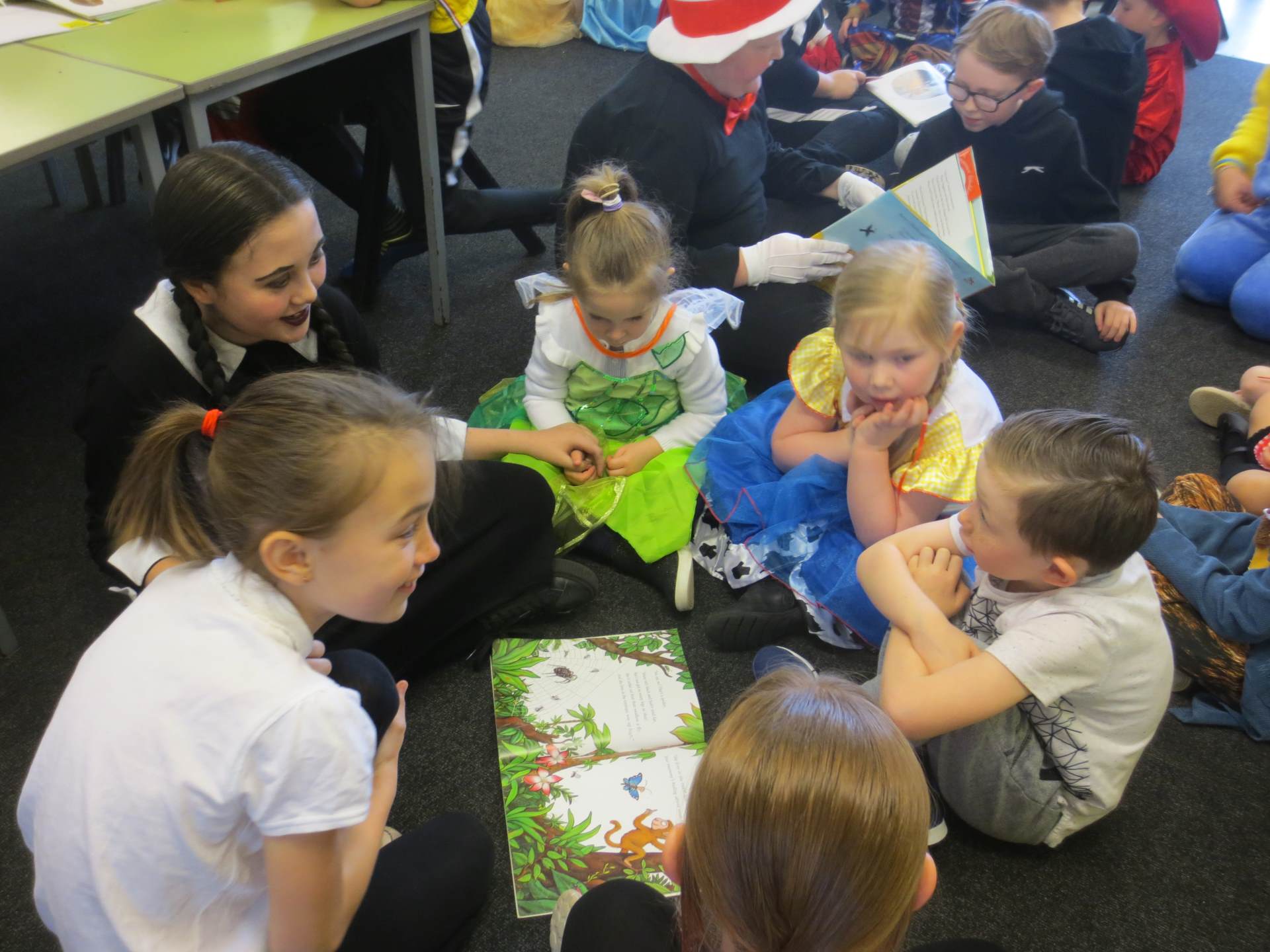 We came dressed up on World Book Day as our favourite book character.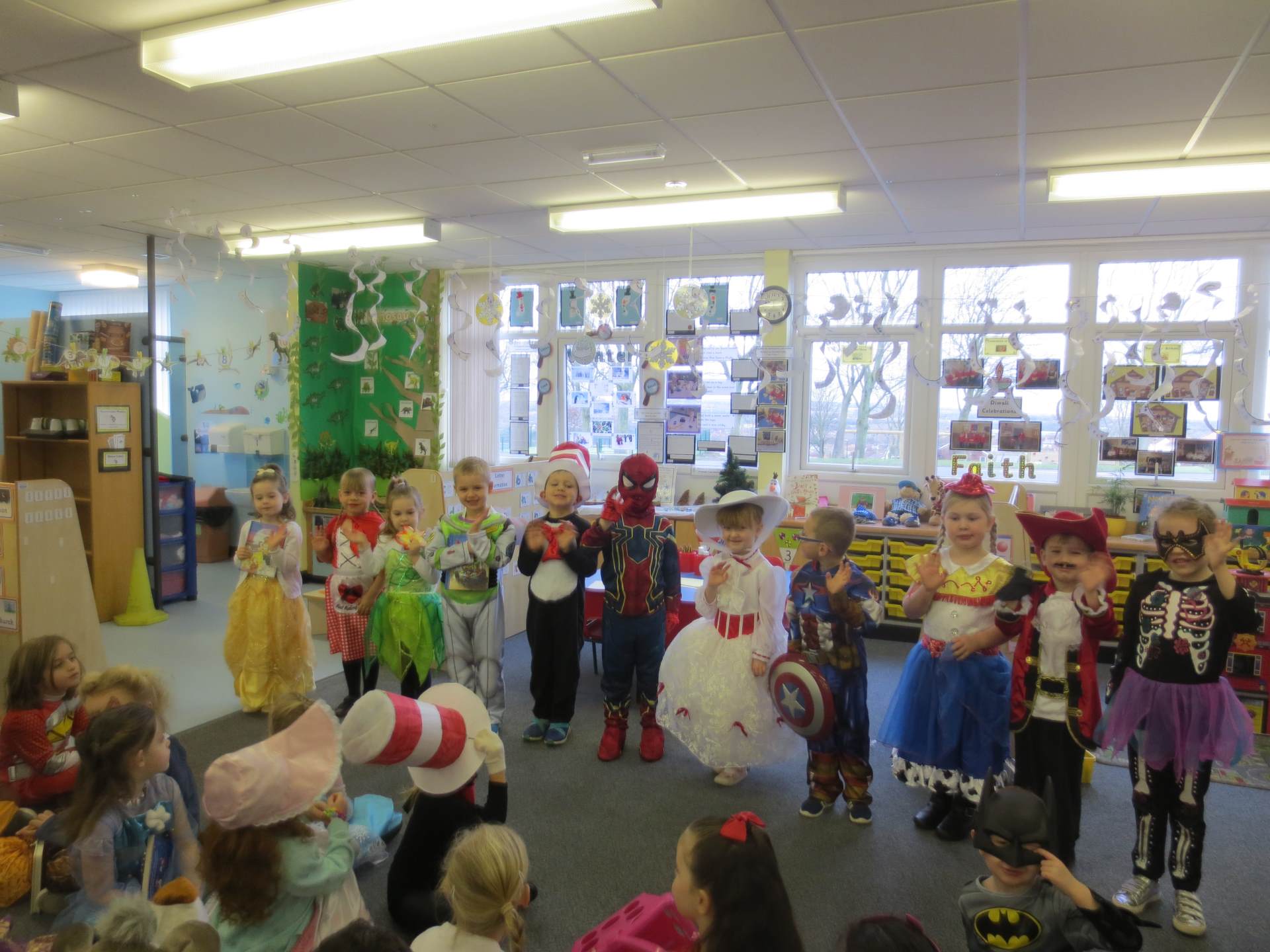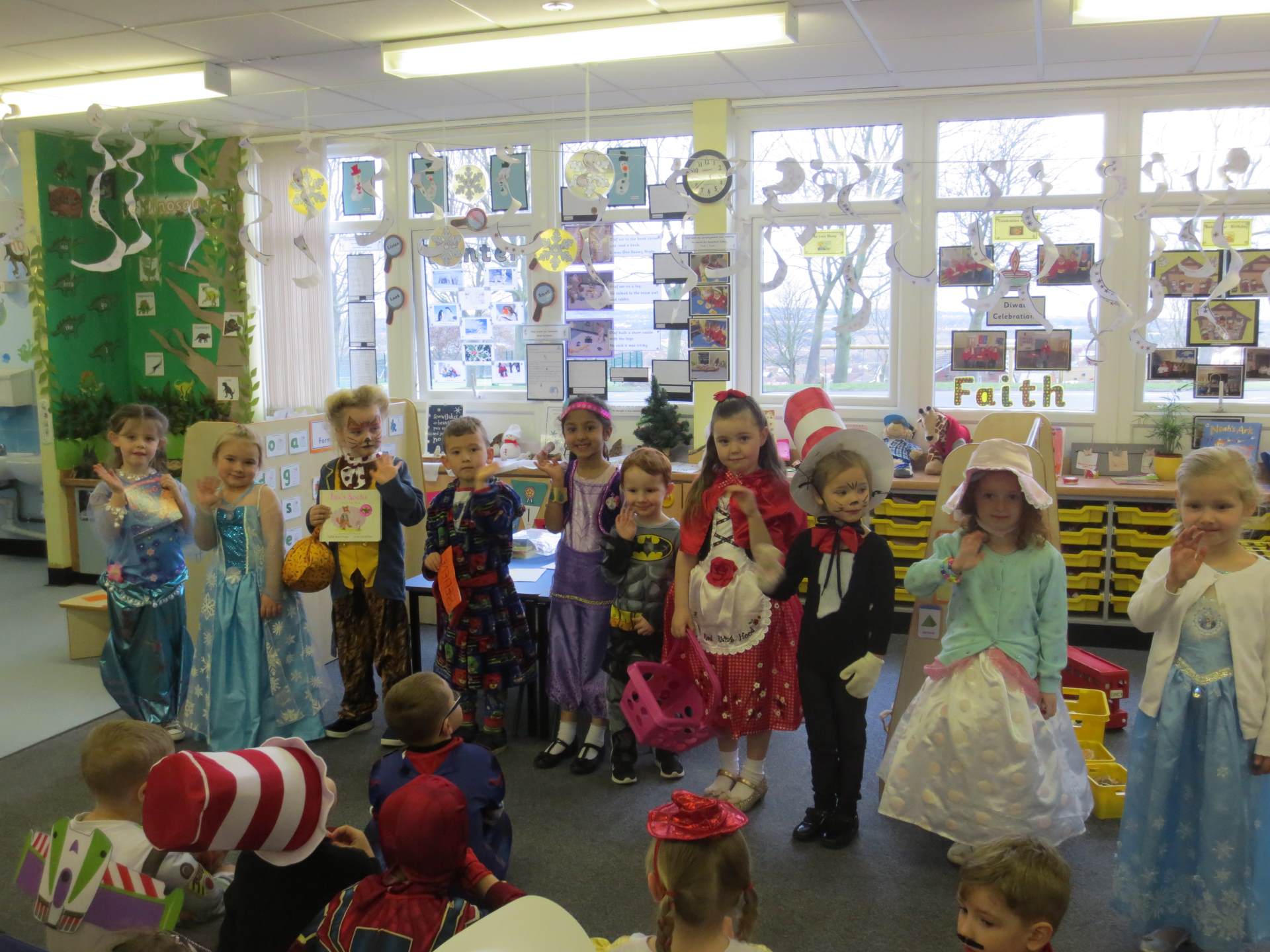 Class Assembly
We performed our Class Assembly for our families and friends.
We were really good.
We sang beautifully, played the musical instruments in time with the music, spoke in clear loud voices and acted brilliantly.
We talked about World Book Day and the characters in our stories.
We also performed a play, The Three Billy Goats Gruff.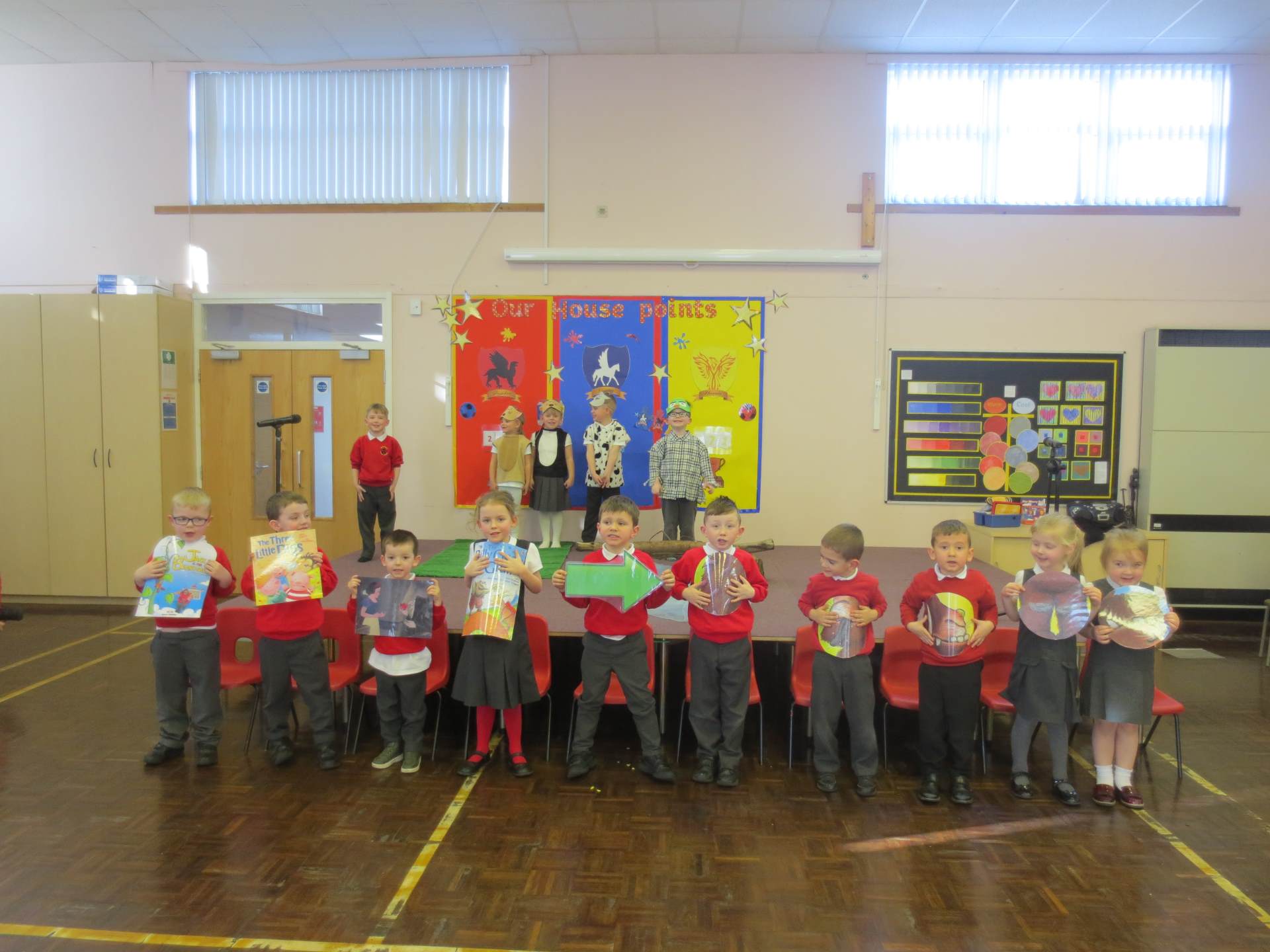 Mathematics Workshop
This morning we worked with our family in the school hall.
We looked at mathematics in the Early Years
numbers, addition and subtraction.
We then made a Fishing Game to practice all of the skills we had looked at.
It was great fun. We are going to play the game at home.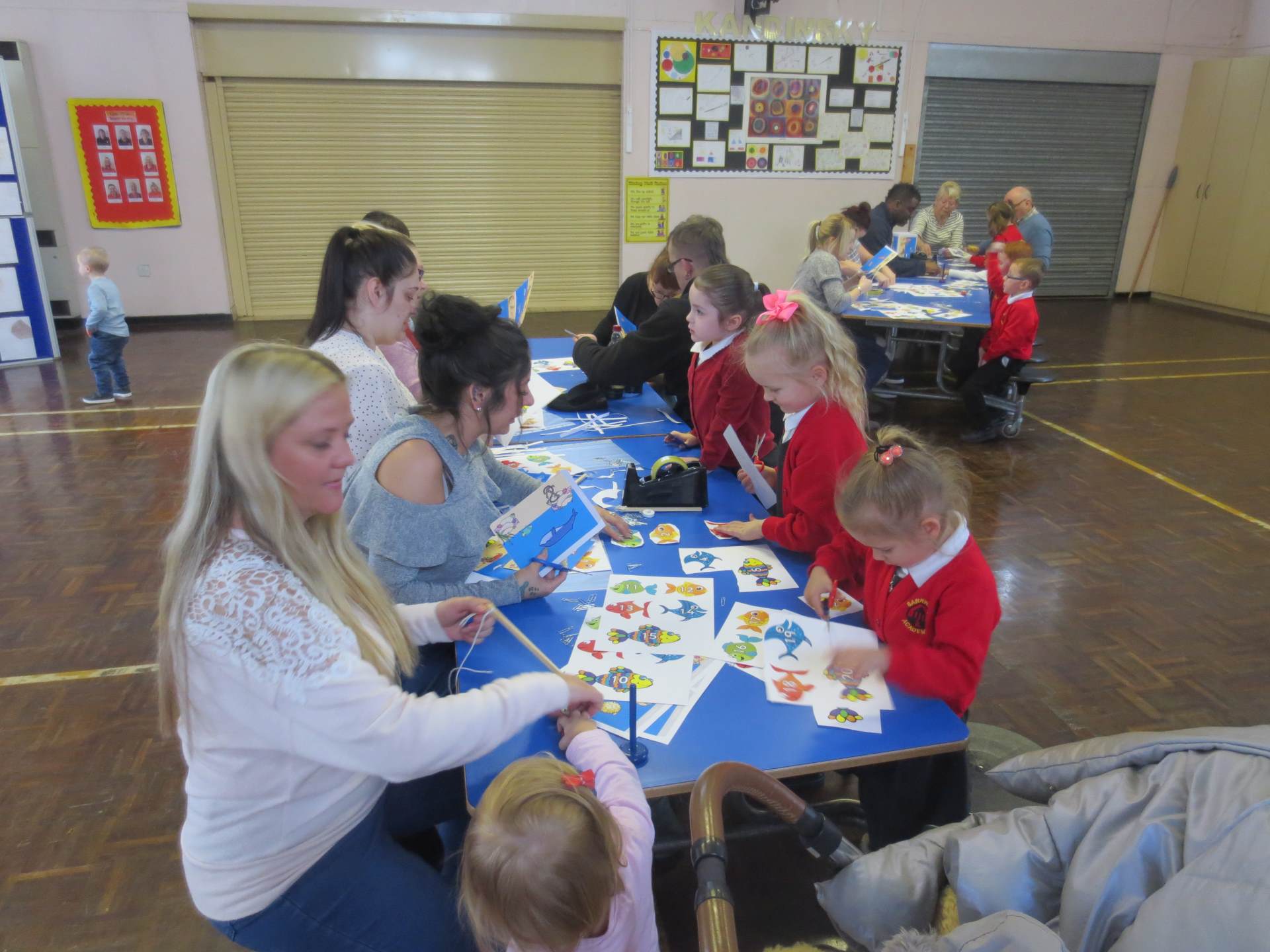 Art and Technology Day
We have had a great day joining in with large art activities in our school.
Mr Mulhern helped us to make large figures decorated with lots of patterns.
Miss Kirkham helped us to make a picture of the school badge using mosaic tiles.
In class we are busy designing and making Mother's Day Cards and Easter Cards.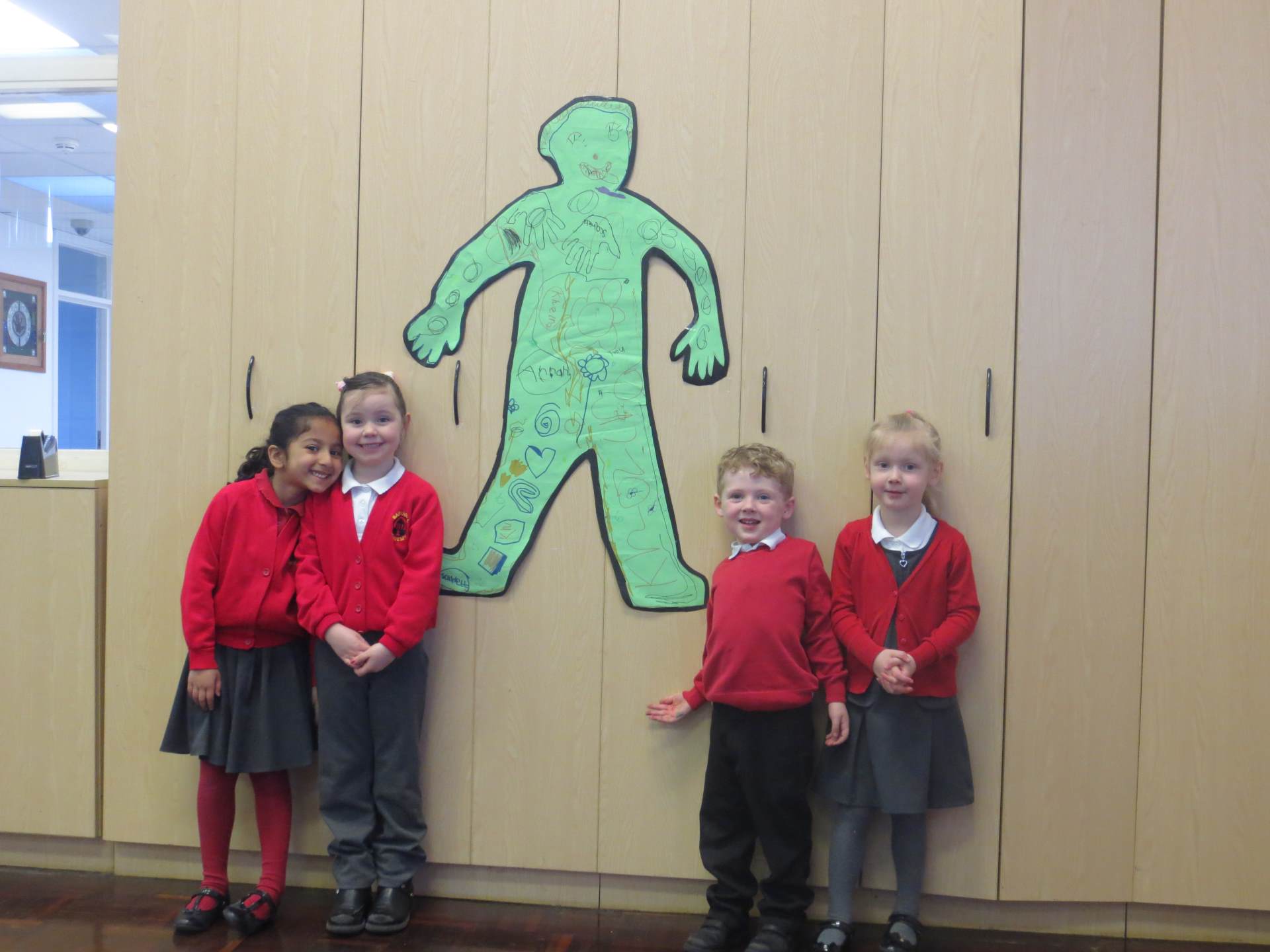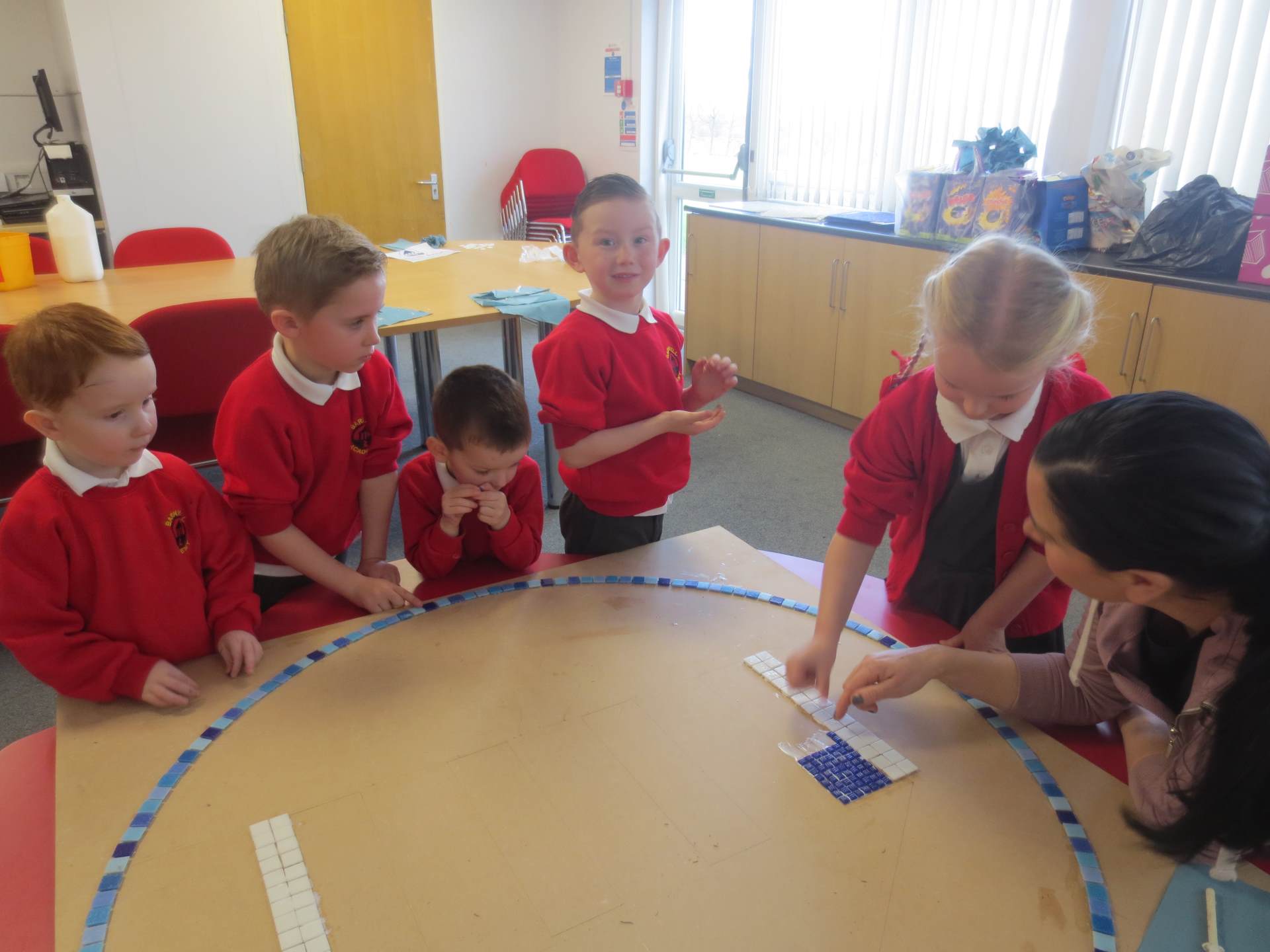 Rhyme Time
We had a great time making our own rhymes.
We used our sounds to help.
A goat floated in a boat.
We have also made our own sound effects to accompany different rhymes.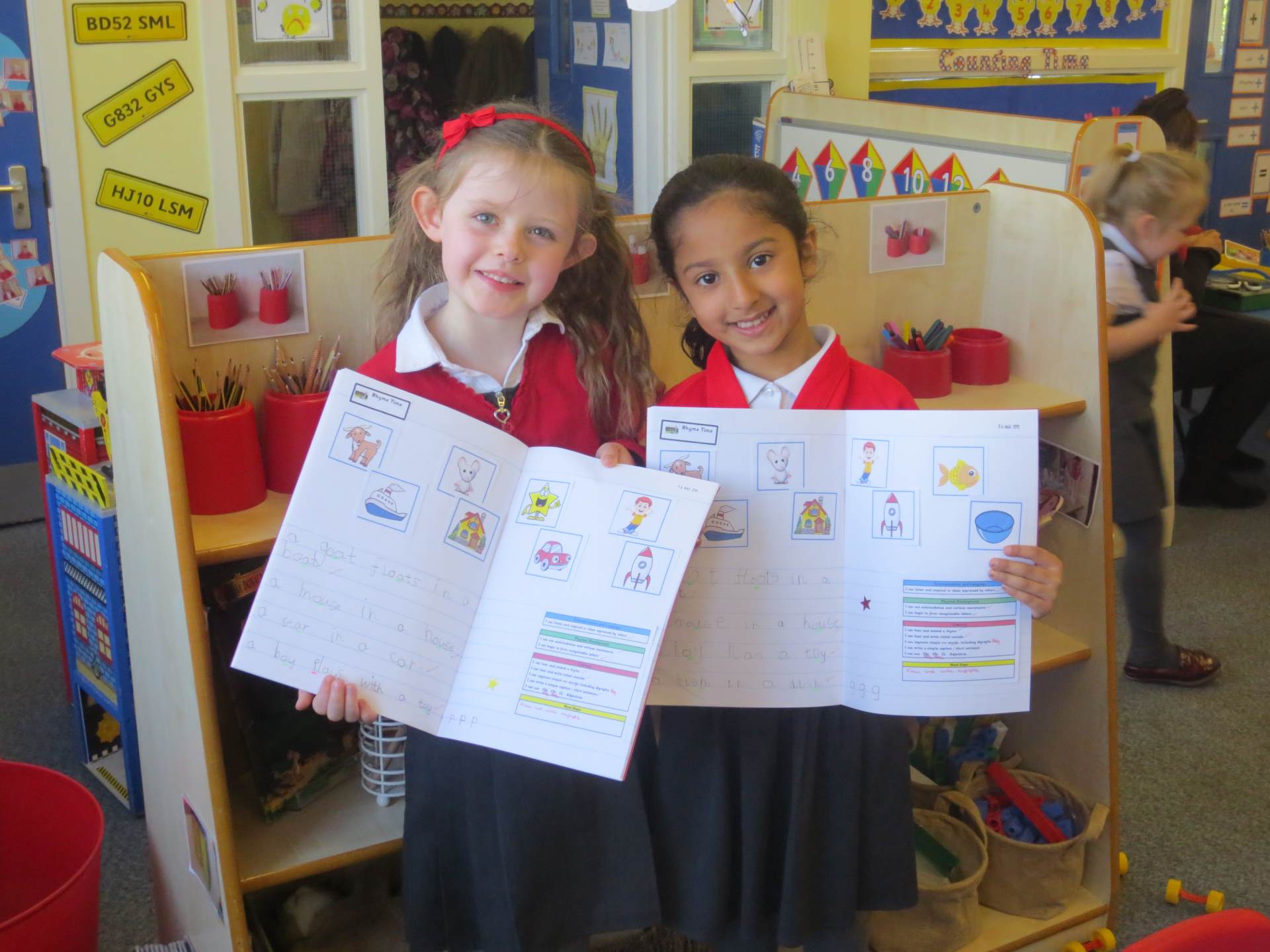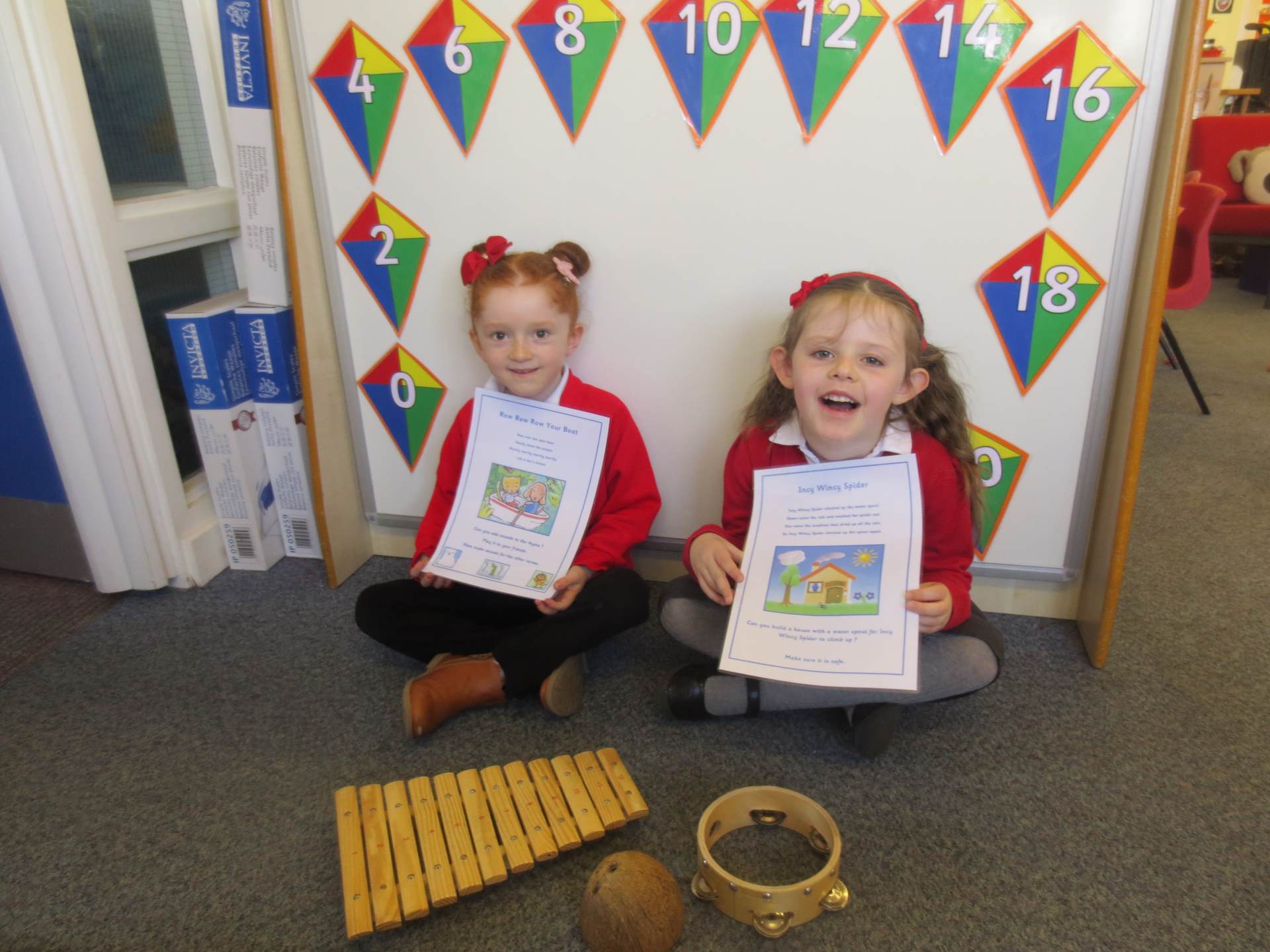 Easter
We are having a creative time.
We have made rabbit chick or egg cards.
We have also designed and made an egg for the Easter Fair.
They all look amazing.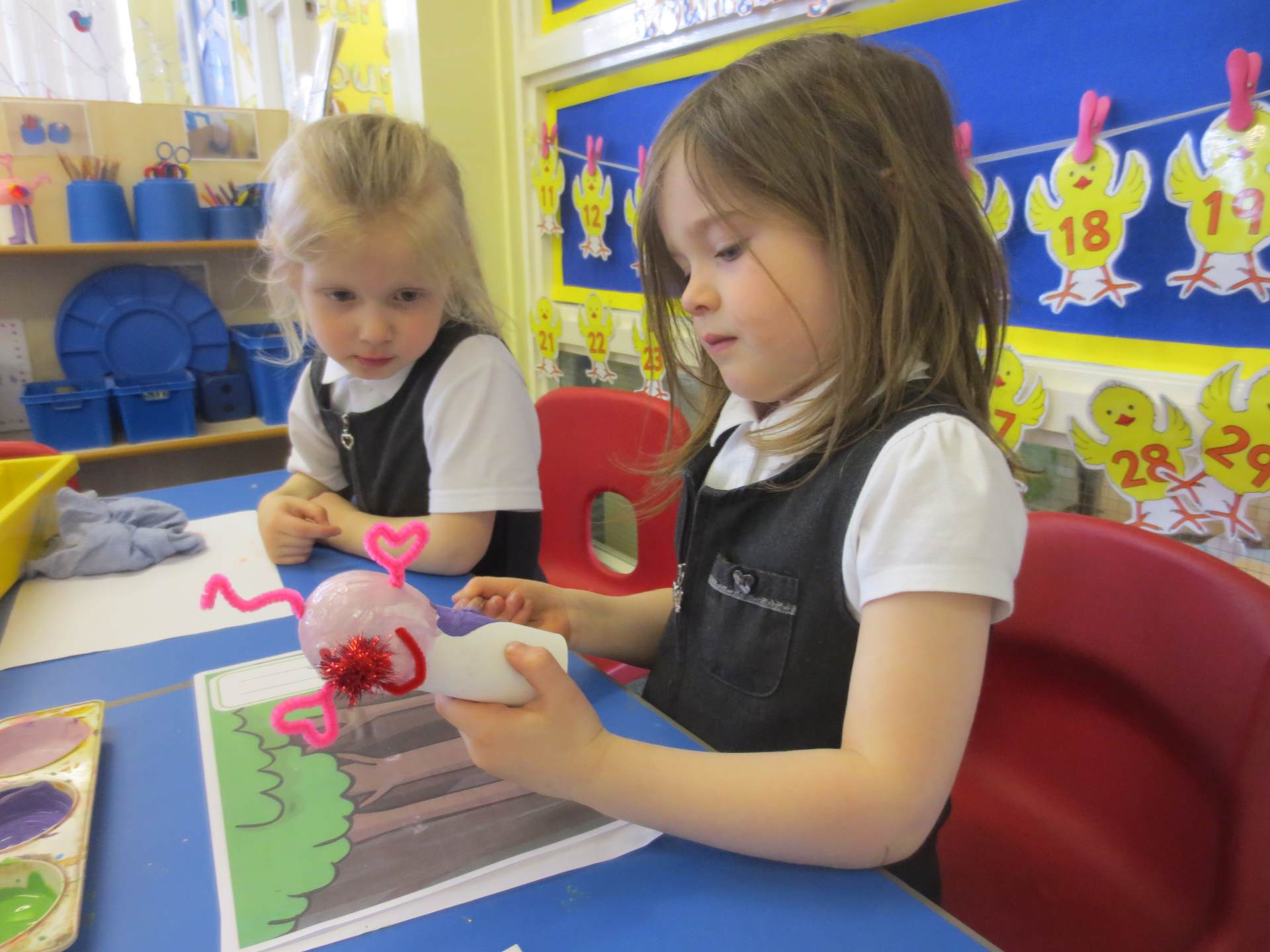 School Nurse Visit ~ Staying Healthy and Clean
The Nurses visited our class today.
We read about a little boy who was dirty and had to learn how to have a bath.
We were able to say how we stay clean.
We have a bath, we wash our hands lots and we brush our teeth twice a day.
Fairy Tales
We have explored fairy tales. We read The Three Little Pigs and Cinderella.
The stories were written a long time ago.
We know fairy tales begin with once upon a time and end with live happily ever after.
We have written a description of the big bad wolf or Cinderella.
We have also retold the story of the Three Little Pigs.
We have also learnt how to write an algorithm to move the Wolf Bee Bot to the Pig's House.
Plants and Growing
We have investigated plants in the last 2 weeks.
We have found out that plants need sun and water to grow healthily.
We watched white flowers turn red and blue as they drank the coloured water.
We can name all the parts of the plant.
We planted and looked after our own cress seeds in a Cress Head pot.
Joseph brought apple seeds into school. We have planted them to see if they will grow into an apple tree.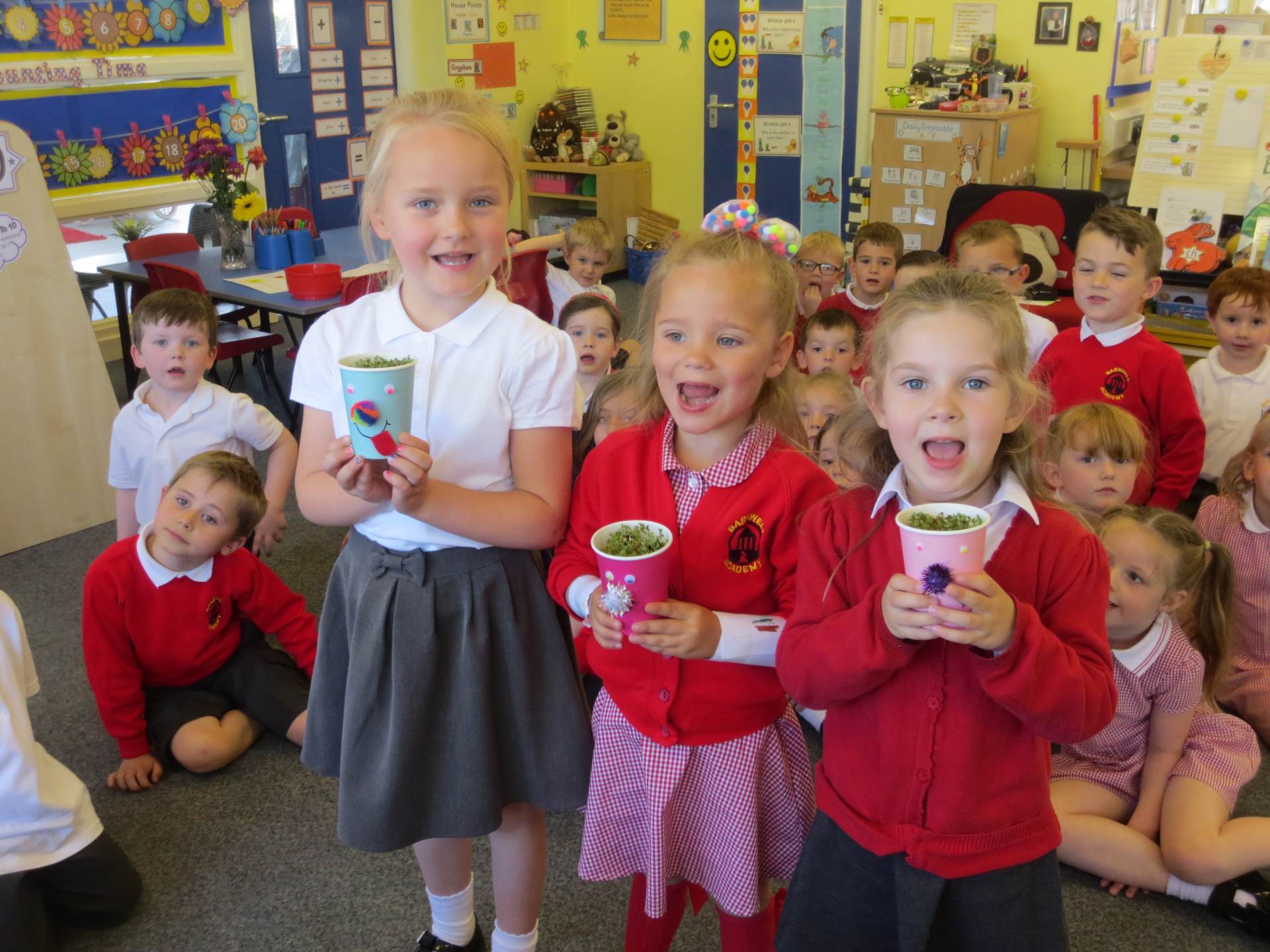 Mini-beasts
To help with our mini-beast theme we have visited Rainton Meadows.
It was an amazing day.
We went pond dipping and found tadpoles, froglets, diving beetles and lots more.
We went on a bug hunt in the wood and found spiders, beetles, woodlice, centipedes and lots more.
We completed a rainbow coloured nature walk and looked at all the plants and birds on the site.
We had fun on the play area.